RTI Announces Titanium Howitzer Goes into Full Production
Category: Defence Industry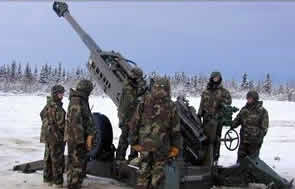 NILES, Ohio --- RTI International Metals, Inc., announced today that the M777A1 titanium howitzer program has begun full rate production. BAE Systems, the prime contractor, has received an $834 million contract to supply the Army and Marines with 495 M777A1 lightweight howitzers over the next four years.
The award follows the development and production of 94 guns under a low rate initial production contract. RTI is the principal titanium supplier to the program, providing not only mill products, but also kitted titanium components utilizing its facilities in Houston and the U.
K. With the majority of the gun`s components made of titanium, the M777A1 is 7,000 pounds lighter than the system it replaces. RTI International Metals, headquartered in Niles, Ohio, is one of the world`s largest producers of titanium. Through its various subsidiaries, RTI manufactures and distributes titanium and specialty metal mill products, extruded shapes, formed parts and engineered systems for aerospace, industrial, defense, energy, chemical and consumer applications for customers around the world.
RTI International Metal
11.04.2005

Share...




Discuss