Raytheon Completes Successful Intercept Tests for Future Combat Systems Active Protection System
Category: Future Technologies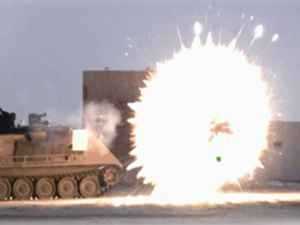 MCKINNEY -- Raytheon Company, working in partnership with the Army, the Future Combat Systems Lead Systems Integration team of Boeing and Science Applications International, and BAE Systems, has passed a major milestone by completing successful stationary and moving target intercept tests for the FCS Active Protection System (APS).
The tests represent a significant step in design verification testing for the system, which includes defeating multiple incoming projectiles simultaneously and while on the move - a unique capability of the APS.
"The successful testing of this system is a top priority for Raytheon and our FCS One Team partners," said Glynn Raymer, vice president of Raytheon's Network Centric Systems Combat Systems business. "It will provide a powerful force protection capability to our warfighters."
The APS will provide active protection for FCS manned ground vehicles.
We are looking forward to completing validation testing of this system for the Army and getting it to our soldiers as soon as possible," said Raymer. "This vertically-launched system is the FCS solution that will meet current and future force requirements."
FCS is a joint networked family of manned and unmanned ground and air platforms and sensors that enables ground combat forces to conduct their missions safely and more effectively.
Boeing and partner Science Applications International function as the lead systems integrator for the program, managing a best-of-industry team of more than 500 partners and suppliers.
Raytheon Company, with 2007 sales of $21.3 billion, is a technology leader specializing in defense, homeland security and other government markets throughout the world. With a history of innovation spanning 86 years, Raytheon provides state-of-the-art electronics, mission systems integration and other capabilities in the areas of sensing; effects; and command, control, communications and intelligence systems, as well as a broad range of mission support services. With headquarters in Waltham, Mass., Raytheon employs 72,000 people worldwide.
Raytheon
09.10.2008

Share...




Raytheon, Rheinmetall form joint venture for US Army combat vehicle competition
02.10.2019
Raytheon, Rheinmetall join forces for US Army's Next-Gen Combat Vehicle competition
14.10.2018
Recapitalization of 218 M1A2 Tanks and Related Equipment and Support
16.12.2016
Milrem Targets the UK Market with Its First-of-Its-Kind UGV THeMIS
08.09.2016
Thales Raytheon Systems France
JPS COMMUNICATIONS, INC. A RAYTHEON COMPANY
Corporate Communications Raytheon Company
Quick Kill (Active protection system)
Discuss