At the AUSA Annual Meeting 2008 Rafael will present the SpotLite Mk2
Category: Future Technologies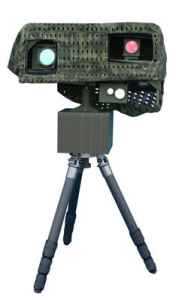 SpotLite Mk 2 is an electro-optical system for detecting, locating, investigating and neutralizing small-arms fire sources. The system has been designed for the platoon, company and battalion level, for patrol and reconnaissance units as well as for sniper forces, for stationary situations and for combat on the move.
The system was originally built in cooperation with an "operational client" in order to facilitate combatants to deal with enemy spotting and efficient and agile management of own forces fire with the aim of attaining fast neutralization of target without causing collateral damage. The system facilitates spotting the fire sources with a high level of precision, investigating them and relaying these targets to sniper forces or other shooters in order to swiftly and efficiently close the sensor-to-shooter circuit, all within the low tactical level.
David Shtemer, Corporate Vice President and General Manager Missile Division emphasized that the system is the result of a joint project financed by the Israeli Ministry of Defense and the USA TSWG. RAFAEL has implemented in this system its world-class missile image processing capabilities. The system has been operational for the last two years and has been repeatedly praised by the above mentioned "operational client".
In light of the lessons learnt from this system, SpotLite Mk 2 is smaller in size and weight, consumes less power and may be carried by two combatants. The system has undergone several tests and exercises to the full satisfaction of the TSWG and the Israel Ministry of Defense.
The SpotLite Mk2 maintains high performance, compatible with operational requirements such as: Electro-optical Unit ( EOU ) includes a FLIR camera (Field of view: 48 x 24), a CCD camera with continuous zoom, LASER range finder, LASER pointer, GPS, light tripod, PTU ( pan and tilt unit ) and a data processing unit.
The unit enables Spotting fire sources at 1000 meters and above ,High probability of detection and low level of false alarms and Spotting and recording of a large number of targets shooting simultaneously.
The system allows also to Investigating of the detection point in order to incriminate it by means of automatic pan and tilt unit and performing zoom on the point and Turning the detection point into a target in an automatic and fast mode by extracting coordinates and range to the target.
Rafael
12.10.2008

Share...




BAE Systems` CV90 increases lethality by testing SPIKE LR anti-tank guided missile
14.01.2020
Rheinmetall unveils the Lynx KF41 Next-Generation Combat Vehicle
18.06.2018
General Dynamics European Land Systems presents a new variant of PIRANHA IFV at the HEMUS Exhibition 2018
04.06.2018
Oshkosh Defense Showcases JLTV Vehicles With Next Generation Weapon Integration Capabilities At AUSA 2017
10.10.2017
RAFAEL Armament Development Authority Ltd.
RAFAEL Ordnance Systems Division
Discuss