The upgrading of 108 AMX 10P armored vehicles is complete
Category: Defence Industry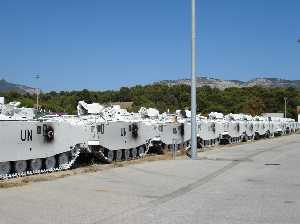 Versailles Satory, December 17th, 2008 - Nexter has just finished upgrading 108 AMX 10P tracked armored personnel carriers ahead of the initial schedule.
This upgrade was carried out in six French Army infantry regiments. The last armored vehicle was returned to the 92nd Clermont-Ferrand Infantry Regiment on October 23, 2008.
ox.
As a reminder, the DGA French procurement agency had placed an order with Nexter in September 2005, notably concerning the upgrade of these 108 armored vehicles and the delivery of 258 gearboxes.
This operation increased the vehicle's protection with the installation of add-on armor. Its mobility was increased by fitting new suspension systems and a strengthened gearb
Nexter
21.12.2008

Share...




TEMPORARY COMPANY GROUPING EBMR MEETS ITS DELIVERY OBJECTIVES FOR 2019
14.01.2020
CZECH REPUBLIC SIGNED THE ACQUISITION CONTRACT FOR 62 TITUS
30.07.2019
KMW and Nexter join forces on Main Ground Combat System
21.06.2018
With the TITUS® mission orchestration, Nexter asserts its position as a global player in the digitization of the land defense
20.06.2018
Discuss