BAE Systems Awarded $115 Million For Caiman Spare Parts
Category: Defence Industry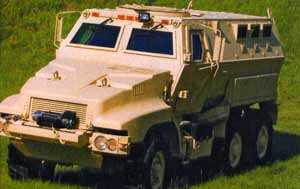 HOUSTON, Texas –- BAE Systems has received six contracts worth $115 million from the U.S. Army Tank-Automotive and Armaments Command for replacement parts, including complete engines, transmissions, axles and self-recovery winches, for Caiman Mine Resistant Ambush Protected (MRAP) vehicles.
This order fulfills urgent requirements for spare parts to maintain approximately 1,650 Caiman MRAP vehicles operating in Iraq.
"The Army's request for sustainment spare parts helps maintain the assets needed to keep vehicles in the fight and meet theater demand," said Chris Chambers, vice president of Medium/Heavy vehicles for BAE Systems.
Replacement parts are ordered and received from the original equipment manufacturers who supply parts for the Caiman production line vehicles. The completed engines are comprised of the Caterpillar engine, which has accessory parts such as alternators, starters, and hoses installed at BAE Systems' Sealy, Texas facility. BAE Systems then preserve, mark and package the parts to military specifications before shipping to Red River Army Depot (RRAD) in Texarkana, Texas. RRAD send the parts to Iraq to fill MRAP repair part orders from the various Army units. Work filling the contract orders will be completed by August 2009.
"This work ensures the proper sustainment parts are included to keep the vehicles operating," said Shane Burns, Caiman project manager at BAE Systems. "The Caiman has a 95 percent operational readiness rate and these items are helping to maintain that rate now and improve it. Every item on this contract, with exception of rear axle, is currently needed in Iraq."
BAE Systems has hired an additional 20 employees in its Sealy, Texas facility to help fulfill the orders. Two of the new hires are permanent employees. The remaining 18 are temporary hires. The additional employees will contribute an estimated $1.66 million in generated business and income to the greater Houston area for the year.
BAE Systems employs more than 2,500 people in Sealy, Texas and has nearly 900,000 square feet of manufacturing and office space on approximately 200 acres. The Sealy facility has a long history with wheeled vehicle products and has established itself as a world-class designer, volume manufacturer and through-life supporter of high-quality, best value, military tactical trucks and wheeled vehicle systems with payload capacities from 2.5 to 18 tons. Today, BAE Systems is the exclusive manufacturer of the Family of Medium Tactical Vehicles and is the producer of three Mine Resistant Ambush Protected variants, the Caiman, the RG33 and the RG31.
BAE Systems
06.01.2009

Share...




BAE Systems` CV90 increases lethality by testing SPIKE LR anti-tank guided missile
14.01.2020
U.S. Marine Corps orders more Amphibious Combat Vehicles
11.11.2019
RAVEN Countermeasure System protects vehicles from missile threats
15.10.2019
BAE Systems unveils Robotic Technology Demonstrator Vehicle at AUSA
15.10.2019
BAE Systems Land Systems Hagglunds AB
BAE SYSTEMS Advanced Technology Centre
BAE SYSTEMS Customer Solutions & Support Land & Sea
BAE SYSTEMS Operational Training
BAE SYSTEMS RO Defence Small Arms Ammunition Division
BAE Systems North America, Land & Information Systems
Caiman MRAP (Mine protected carrier)
Caiman Light (Mine protected carrier)
Caiman MTV (Mine protected carrier)
Discuss