Czech Government Approves Purchase of 107 Pandur Armoured Carriers
Category: Contracts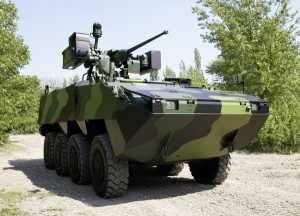 Czech Defence Minister Vlasta Parkanova can now sign the contract.
"About 153 percent of offsets have been agreed. Most of them, I would say, are direct offsets. A number of Czech firms will take part in the production," Topolanek said.
The purchase of the APCs has been talked about since 2003.
Topolanek said today the delay has caused the military marked problems with operational capabilities at home and mainly in foreign missions.
Topolanek said money has been earmarked for the purchase in the state budget.
"The keeping of the average unit price agreed during the negotiations was a condition for the contract," he said.
The then government agreed with the purchase of 240 APCS in 2003. Steyr, which is part of General Dynamics, won the tender in 2006 and the agreed price exceeded 23.5 billion crowns.
In 2007 the government decided to withdraw from the contract after Steyr failed to keep the contract conditions.
In January 2008, Steyr was given one more chance to supply a lower number of APCs, however.
Czech MoD
04.03.2009

Share...




CZECH REPUBLIC SIGNED THE ACQUISITION CONTRACT FOR 62 TITUS
30.07.2019
BAE Systems debuts iFightingŪ for combat vehicles at Eurosatory
12.06.2018
The Transatlantic Partner for Land Defense in Europe - General Dynamics European Land Systems premiers four new offerings at EUROSATORY 2018
08.06.2018
BAE Systems to participate in IDEB in Bratislava
17.05.2018
Monch, Office for Czech and Slovak Republic
ASSOCIATION OF THE DEFENCE INDUSTRY OF THE CZECH REPUBLIC - AOP
Czech Army Foreign Relations Office
PANDUR (Wheeled armoured personnel carrier)
PANDUR II 8x8 (Wheeled armoured personnel carrier)
Pandur (Wheeled armoured personnel carrier)
PANDUR AMPHIBIOUS (Wheeled armoured personnel carrier)
PANDUR ARSV-30 (Reconnaissance Vehicle)
PANDUR ARFSV (Fire support vehicle)
PANDUR (Repair and recovery vehicle)
PANDUR Konstrukta (Wheeled armoured personnel carrier)
PANDUR ARSV-25 (Reconnaissance Vehicle)
PANDUR MG7S 25 (Reconnaissance Vehicle)
PANDUR II 6x6 (Wheeled armoured personnel carrier)
PANDUR II 6x6 (Command vehicle)
PANDUR EVO (Wheeled armoured personnel carrier)
Discuss