The Chairman of the Ukrainian Parliament Drove the Oplot Main Battle Tank
Category: Defence Industry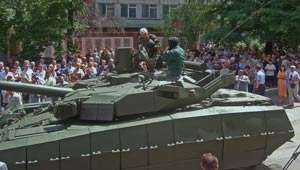 On 16 June 2009 Volodymyr M. Lytvin, the Chairman of the Supreme Rada (Ukrainian parliament), visited the State-Owned Enterprise Kharkiv Morozov Machine Building Design Bureau (SOE KMDB).
The head of the Ukrainian parliament examined the armoured vehicles developed and manufactured by SOE KMDB (including the newest Ukrainian Oplot main battle tank, Dozor light armoured personnel carrier, BTR-4 and BTR-3U armoured personnel carriers, BMPT-72 heavy infantry combat vehicle and computer-based tank crew training simulators), as well as personally driving the Oplot tank for almost half a kilometre.
It took just several minutes to teach the Ukrainian parliament's speaker (who is a historian in his background education) how to drive the Oplot MBT, because the driving procedures of this 50-ton vehicle is quite similar to driving procedures of an modern motor-car.
Volodymyr M. Lytvin joked that, although the Oplot is a very sophisticated fighting machine, it is much easier to handle it than to handle the Ukrainian parliament.
About KMDB:
The Kharkiv Morozov Machine Building Design Bureau (KMDB) is a state-owned enterprise, which is now Ukraine's leading design authority for armoured fighting vehicles and used to play a key role in the development of armoured tracked vehicles in the former Soviet Union. The contemporary activities of the KMDB are distinguished by three main factors:
the ability to offer customers a wide range of armoured vehicles and other products for both military and civil use, as well as obsolete vehicle upgrade packages
the provision of equipment closely tailored to customer's individual requirements
the availability of long-term support for the end user
KMDB
17.06.2009

Problems of Russian Vacuum APFSDS-T projectile
25.01.2019
Australia Orders 211 Boxer Wheeled Armoured Vehicles
17.08.2018
Bumar Labedy represents the PT-17 MBT on the MSPO 2017
07.09.2017
Rheinmetall wins ˆ135 million Bundeswehr order for survivability upgrades of Fuchs/Fox armoured transport vehicles
16.12.2016
Kharkiv Morozov Machine Building Design Bureau - KMDB
Dozor-B (Wheeled armoured personnel carrier)