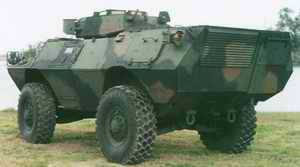 NEW ORLEANS -- Textron Marine & Land Systems, an operating unit of Textron Systems, a Textron Inc. company, today announced the signing of a new letter contract for the Armored Security Vehicle (ASV) with the U.S. Army Tank-automotive and Armaments Command (TACOM).
The contract includes a base order of an additional 191 M1117 ASVs and 38 M1200 Armored Knight vehicles, as well as field support and special sustainment tools. Delivery is expected to commence February 2010 and, should all options of the contract be exercised, could continue into 2013.
The contract totals approximately $200 million, of which $99 million is currently funded. Textron Marine & Land Systems has delivered a total of 2,153 ASVs to the U.S. Army to-date.
"This new contract is a continuing testament to the capability of the ASV and the people here at Textron Marine & Land Systems that dedicate themselves to building this highly mobile and survivable vehicle," said Textron Marine & Land Systems General Manager Tom Walmsley. "The ASV has been outstanding in protecting our troops in military operations around the world, has demonstrated an excellent readiness rate, and has a proven maintenance record in some of the most difficult combat situations in the world. We're proud of the mission success of the ASV, but what is most important is returning our soldiers homes safely when their combat service is complete."
The ASV is a 4X4 wheeled armored vehicle that offers significant crew protection through the employment of multiple layers of armor, defending against small arms fire, artillery projectile fragments, Improvised Explosive Devices (IEDs) and land mines. The ASV possesses superior mobility, agility, handling and ride quality through the utilization of a four-wheel independent suspension system.
The ASV has maintained exceptional operational readiness and combat availability rates over the life of the U.S. Army program as vehicles log more than 30,000 miles per year in combat operations. Textron Marine & Land Systems has achieved more than 46 consecutive months of on-time delivery to the U.S. Army on the ASV program.
The ASV family of vehicles performs a wide variety of missions including scout, infantry personnel carrier, reconnaissance, command and control and recovery. U.S. Army ASV missions include operations with the Military Police, convoy protection, perimeter security, as well as Field Artillery Combat Observation and Lasing Teams (COLT) with the M1200 ASV configuration.
Textron Systems Corporation has been providing innovative solutions to the defense, homeland security and aerospace communities for more than 50 years. Textron Systems Corporation is an indirect wholly owned subsidiary of Textron Inc.