Joint Northrop Grumman and AESIR display demonstrates how UGV and UAV work together
Category: Future Technologies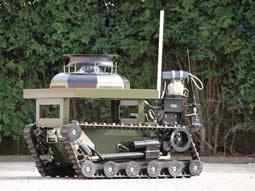 Peterborough -- Detecting Improvised Explosive Devices (IEDs) may have got one stage easier following the demonstration of how an unmanned ground vehicle (UGV) and unmanned air vehicle (UAV) could work together at the UV Europe Conference being held at the Celtic Manor Resort, South Wales on 22 and 23 July 2009.
AESIR, developers of a family of Vertical Take Off and Landing (VTOL) UAVs, and Northrop Grumman an industry leading developer and manufacturer of UGVs for police, military and industry applications worldwide, have come together to show how the UGV can deploy the UAV into the designated area and provide a firm platform for the UAV to deploy from.
The Unmanned Vehicles demonstrating the capability are the AESIR development craft, Embler a 600mm diameter electric engined craft, and Northrop Grummanís Wheelbarrow Mk8 Plus II UGV which has been adapted by having its manipulator arm removed and replaced with a platform for the UAV.
The AESIR Embler has been developed to demonstrate the capabilities of a Coanda effect VTOL UAV in particular the inherent stability, its ability to survive low speed impact with the ground, buildings and other fixed objects and its sustained hover characteristics.
Northrop Grumman through its Remotec subsidiary based in Coventry, is an industry leader in unmanned ground vehicle systems for police, military, and industrial applications and has nearly 2,000 UGVs in service in more than 52 countries worldwide. The Wheelbarrow Mk8 UGV was originally developed for the disposal of improvised explosive devices in Northern Ireland. Today the Wheelbarrow Mk8 is in service with EOD units around the world, including variants designed for mine clearance.
AESIR
31.08.2009

Share...




Oshkosh Defense Exhibits JLTV Firepower at IDEX 2019
24.02.2019
Remotecís unmanned ground vehicle offers affordability and versatility with extraordinary mobility
02.10.2017
Recapitalization of 218 M1A2 Tanks and Related Equipment and Support
16.12.2016
Boxer 8X8 CRV downselected for Australiaís LAND 400 Phase 2 program
01.08.2016
Discuss