Oshkosh Defense Receives $290 Million Delivery Order for the U.S. Army Family of Heavy Tactical Vehicles
Category: Contracts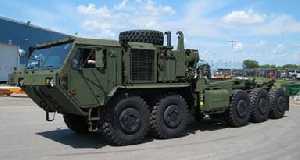 OSHKOSH, Wis. – January 5, 2010 – Oshkosh Corporation announced that its Defense division has received a delivery order valued at more than $290 million from the U.S. Army Tank-automotive and Armaments Command Life Cycle Management Command (TACOM LCMC) to deliver more than 725 next-generation Palletized Load Systems (PLS) A1.
The order was issued under the U.S. Army's existing Family of Heavy Tactical Vehicles (FHTV) contract. Production will begin in April 2010 and be completed in September 2011.
"The modernized PLS A1 delivers superior performance and protection capabilities to help deliver supplies and equipment in some of the U.S. Army's most demanding operations," said Andy Hove, Oshkosh Corporation executive vice president and president, Defense. "The PLS truck and trailer combination can load and unload a variety of heavy-payload cargo, which helps eliminate the need for material-handling equipment and results in leaner, more efficient logistics units."
The PLS A1 is the next generation of the PLS, which Oshkosh has manufactured for the U.S. Army's distribution and resupply needs for its most challenging military missions. The vehicle features a Long Term Armor Strategy (LTAS)-compliant cab and a 600-hp engine. It also uses the Oshkosh-patented TAK-4® independent front suspension for greater off-road mobility. Additionally, the truck and trailer carry a demountable cargo bed, also known as a flatrack, which features a 16.5-ton payload capacity.
Oshkosh has the available capacity, highly skilled workforce and proven manufacturing capability to deliver this FHTV order and vehicles for other Army and Defense programs, including the MRAP All Terrain Vehicle (M-ATV) and Family of Medium Tactical Vehicles (FMTV), as well as any surges in production.
Oshkosh Defense
05.01.2010

Share...




Oshkosh Defense Receives Order for 248 Joint Light Tactical Vehicles
02.07.2020
Oshkosh Defense Receives $407.3 Million Order for Joint Light Tactical Vehicles
24.02.2020
Oshkosh Defense Exhibits JLTV Firepower at IDEX 2019
24.02.2019
Oshkosh FMTV A2 Makes Debut at Ausa 2018, Multiple JLTVS Command the Floor
14.10.2018
Discuss