First deliveries of the counter-mining system SOUVIM 2
Category: Defence Industry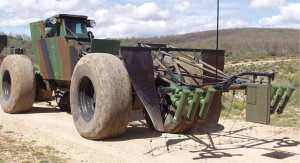 Development of SOUVIM 2, a mine path clearing system designed and manufactured by MBDA since 2008, has just been completed.
Two units of this land vehicle set will be delivered very shortly to the DGA, the French armament procurement agency and will undergo final qualification testing before delivery to the French Army. In line with the DGA's aim, the French Army will be ready to deploy this system on foreign theatres in 2010.
SOUVIM 2 was designed for use in mobility support missions, allowing quick clearing of mined paths over long distances behind the lines: over 100 km of track cleared daily, with extensive counter-mining capabilities. The SOUVIM 2's performance is currently unequalled.
The system relies on the combined action of two vehicles towing mine-activation trailers. The first vehicle is designed to roll over a pressure mine without activating it. It tows a first "mine-triggering trailer" (RDM) whose weight will trigger pressure-sensitive mines and thereby secure the second vehicle's progress. This latter vehicle tows two further RDMs whose different wheel bases help cover the whole width of the track to be cleared.
About MBDA
With industrial facilities in four European countries and within the USA, MBDA has an annual turnover of ˆ2.6 billion and an order book of ˆ12 billion. With more than 90 armed forces customers in the world, MBDA is a world leader in missiles and missile systems.
MBDA is the only group capable of designing and producing missiles and missile systems that correspond to the full range of current and future operational needs of the three armed forces (land, sea and air). In total, the group offers a range of 45 missile systems and countermeasures products already in operational service and more than15 others currently in development.
MBDA is jointly held by BAE SYSTEMS (37.5%), EADS (37.5%) and FINMECCANICA (25%).
MBDA
25.06.2010

Share...




MBDA SHOWCASES TANK DESTROYER VEHICLE WITH PGZ AT MSPO 2019
12.09.2019
Kongsberg and Milrem Robotics Showcase a Robotic Antitank and HMG System at AUSA
14.10.2018
MBDA and Milrem Robotics to Develop Anti-Tank UGV
18.06.2018
Defence Secretary announces £55m contract for UK bomb disposal robots at DSEI
14.09.2017
Souvim 2 (Mine cleaning system)
Discuss