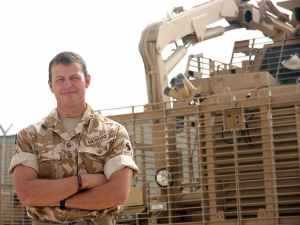 Lance Corporal Rob McInerney is currently working at the forefront of counter-IED operations in Afghanistan piloting the 'Flying Robot', which is part of the Talisman counter-IED system.
Talisman has been designed to provide an increased level of assurance along routes throughout the region. It consists of a suite of cutting-edge equipment, including armoured vehicles, optical cameras and remote-controlled vehicles.
This life-saving equipment is being used to support combat logistic patrols, which can comprise several hundred vehicles and trek through the country delivering vital supplies to bases for the troops on the front line.
Lance Corporal Rob McInerney, aged 26, serves with 15 Field Support Squadron, part of 21 Engineer Regiment - the first troops to use the new system on the ground in Afghanistan. See Related News.
His role is to pilot the MAV (Micro Air Vehicle), otherwise known as the 'Flying Robot' or 'T-Hawk':
"The MAV is a great piece of kit and complements the rest of the equipment," he said. "The MAV has two cameras which feed information back to a laptop so that the commander is then better placed to make decisions.