Otokar Receives $10,6 M Contract for 6x6 ARMA
Category: Defence Industry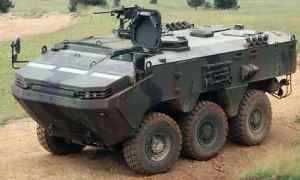 Turkey -- Turkish leading land systems manufacturer, Otokar received the first contract for its new 6x6 tactical armoured vehicle ARMA from abroad.
The contract is valued in excess of $10.6 million including the vehicles, spare parts and training. Deliveries under this contract award are expected to be completed in 15 months.
"This award demonstrates the trust to Otokar's armoured tactical vehicles" says Otokar's General Manager, Serdar Gorguc. "25 thousand of Otokar's tactical vehicles which are in service of more than 20 armies played an important role for this contract." Reminding that Otokar had firstly displayed ARMA at Eurosatory 2010, Mr. Gorguc continued "ARMA is a new product family within the Otokar's the tactical wheeled armoured vehicle range with modular multi-wheel configuration. ARMA vehicle platform with superior tactical and technical features is an outstanding and cost effective product among competitive products. Thanks to the high level of ballistic and mine protection as well as, the outstanding design allowing the integration of various types of weapon stations and mission equipments, ARMA is an adaptable platform for evolving mission needs in a modern battlefield."
Previous week, Turkish Undersecretariat of Defence Industries annouced Otokar to be Turkey's largest privately owned company of defence industry.
About ARMA
The 6.4 m long, 2.7 m wide and 2.2 m high ARMA 6x6 variant has an 19 tonnes combat weight and carries a driver, commander and eight dismounts in its fully NBC protected hull. The vehicle is C-130 air transportable in standard configuration.
ARMA's front two axles are steerable enabling it to make a turning radius of 7.85 m and the vehicle rides on independent hydropneumatic suspension, offering respectable off-road mobility. Tyre run flat capability and Central inflation system is supplied as standard. It can negotiate a 45-degree approach and departure angles leading onto 60 per cent inclines and 30 per cent side-slopes. It can also cross 1.2 m wide trenches and climb over 60 cm obstacles.
A 450 hp water-cooled turbo diesel capable of running on F-34 or F-54 fuel drives the wheels through an automatic gearbox and single-speed transfer box, giving it a top speed of 105 km/h and a power/weight ratio of 24.3 hp/tonne.
This also powers the onboard 24 V DC electrical system, which incorporates two maintenance-free 125 Ah batteries and a 3.3 kW converter.
The engine is located at the right front of the vehicle, allowing a comparably high internal volume to be efficiently and ergonomically used. With this internal layout, all the personnel especially the commander can keep eye contact continuously among each other.
6x6 ARMA can be driven in 6x6 or 6x4 modes depending upon the terrain conditions. The vehicle is amphibious and driven by 2 hyraulically driven propellors in water allowing a high seagoing performance with a pivot turn capability. ARMA's ballistic and anti-mine protection is provided by high hardness monocoque steel hull and all personnel is seated on anti- mine seats .
ARMA vehicle's development started in 2007 as a company funded development project for home and export markets. Development studies from concept design till the end of test phases including qualification and validation processes, detailed design, computer aided engineering studies, are performed by Otokar.
ARMA 6x6 is ready for full scale production and the family will be complemented by an 8x8 version late in 2011.
Otokar
09.12.2010

Share...




Otokar offers solutions with technology transfer and local manufacturing models
13.09.2019
AKREP II electric armored vehicle presented in Turkey
25.04.2019
Otokar Receives $28.9 Million Contract for its Armored Vehicles
31.07.2018
Otokar debuts its Light Tank in Paris
19.06.2018
OTOKAR Otobus Karoseri Sanayi A.S.
Arma 6x6 (Wheeled armoured personnel carrier)
Arma 8x8 (Wheeled armoured personnel carrier)
Discuss