Otokar to Receive $30 Million Contract for Tactical Vehicles
Category: Defence Industry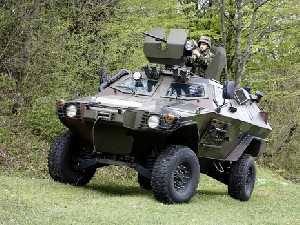 Turkey -- Turkish leading land systems manufacturer, Otokar was awarded a $30 million contract from abroad.
The contract is for the COBRA armoured tactical vehicle, APV armoured tactical vehicle and 4x4 soft skinned tactical vehicles including spare parts and training. Delivery is scheduled to begin in 6 months.
Reminding the ARMA contract that has been signed last week, Otokar General Manager Serdar Gorguc said; "We are delighted of the recent interest in our amoured vehicles. Last week we were awarded a $10,6 million contract for our newest 6x6 ARMA armoured vehicle. And, today, we are happy to announce that Otokar received a new contract from abroad valued $30 million. These are the signs of the trust and confidence shown in Otokar armoured vehicles."
The order includes different types and configurations of Otokar vehicles. The 4x4 COBRA weapon platform, 4x4 APV Personnel Carrier and Ambulance, and 4x4 tactical vehicles for personnel carrier and workshop are the main types to be delivered.
Sergyi Way
15.12.2010


www.army-guide.com
Share...




Otokar submitted its Best and Final Offer for Altay Serial Production
22.02.2018
Otokar to present COBRA II and ARMA 6x6 at GDA 2017
13.12.2017
Otokar participated in Expodefensa 2017
09.12.2017
Otokar Submitted its Proposal for Serial Production of Altay Main Battle Tank
24.11.2017
OTOKAR Otobus Karoseri Sanayi A.S.
COBRA (Wheeled armoured personnel carrier)
Cobra-K (Infantry fighting vehicle)
Cobra-S (Infantry fighting vehicle)
COBRA (Control and command vehicle)
COBRA (Reconnaissance Vehicle)
COBRA (Nuclear/biological/chemical reconnaissance vehicle)
COBRA II (Wheeled armoured personnel carrier)
Cobra (Tracked armoured personnel carrier)
COBRA MK2 (Robot, Unmanned Vehicle)
Cobra (Wheeled armoured personnel carrier)
Cobra (Mine protected carrier)
Cobra (Wheeled armoured personnel carrier)
COBRA MK2 Ñ (Robot, Unmanned Vehicle)
COBRA MK2 E (Robot, Unmanned Vehicle)
Discuss