Force Protection Receives $46.6 Million Award for Delivery of 40 Buffalo Vehicles
Category: Defence Industry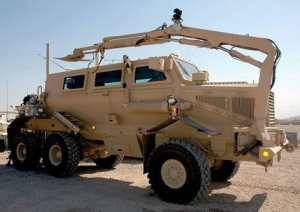 LADSON, S.C. -- Force Protection Industries, Inc., a Force Protection Inc., group company, today announced that it has received contract M67854-11-C-5063 from the United States Marine Corps Systems Command with an approximate value of $46.6 million. The award is a Foreign Military Sale (FMS) for 40 Program of Record (POR) Buffalo Mine Protected Clearance Vehicles (MPCV).
All work under this contract will be performed in Ladson, SC and is expected to be completed by September 30, 2011.
Randy Hutcherson, Chief Operating Officer for Force Protection Industries, Inc., said, "The demand for Buffalo continues to be solid due to its effectiveness as the premier route clearance vehicle available today. Buffalos have saved untold numbers of lives over the last several years in combat operations in Iraq and Afghanistan. We are extremely proud to provide these vehicles to conduct the critical work of clearing the way for coalition troops in harm's way."
Separately, Force Protection Industries, Inc. was awarded on March 30, 2011 a firm fixed price modification to existing contract M67854-07-D-5031 for approximately $11.4 million for a 10-month renewal of 46 field service representatives to install liner blanket kits, modernization safety kits, and conduct general maintenance work on the Cougar Mine Resistant Ambush Protected (MRAP) vehicle fleet supporting Operation Enduring Freedom and Operation New Dawn. All work will be performed in Afghanistan and Iraq, and will be completed by Dec. 31, 2011.
Force Protection
07.04.2011

Share...




Rheinmetall MAN Survivor R special protected vehicle on show at GPEC 2020 international security exhibition in Frankfurt/Main
24.02.2020
The Dutch armed forces select Rheinmetall to modernize their Bergepanzer 3 Büffel
17.05.2019
BAE Systems awarded Armored Multi-Purpose Vehicle contract modifications by U.S. Army for Low-Rate Initial Production
24.02.2019
Rheinmetall Mission Master Dominates European Ground Robotic Systems Competition at ELROB 2018
04.11.2018
Buffalo H (Mine clearing vehicle)
Buffalo (Wheeled armoured personnel carrier)
Turkar Buffalo (Mine protected carrier)
Discuss