Bushmaster Order a Vote of Confidence in Australian Industry
Category: Defence Industry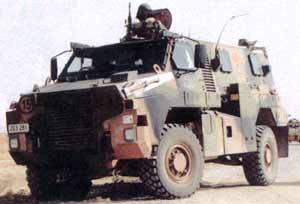 Thales Australia has signed a contract to supply another 101 Bushmaster vehicles to the Australian Department of Defence.
The contract is a further vote of confidence in the Bushmaster, which has performed well on operations and helped save the lives of numerous Australian troops. The new Bushmasters will be used to replace damaged vehicles, and to support current and future operations.
"This success is the result of extensive R&D, engineering and Australian manufacturing expertise," said Chris Jenkins, Thales Australia's CEO.
"The teams based at our facility in Bendigo, Victoria, have wide-ranging skills and experience that enable us to work closely with the Defence Materiel Organisation and the Australian Defence Force to continually enhance the Bushmaster family of vehicles to meet evolving requirements.
"We greatly appreciate this vote of confidence by the Commonwealth not only in our own workforce, but also the specialist skills found in the many Small to Medium Enterprises that make up a significant part of the Bushmaster supply chain.
"Once again, this shows what Australia's defence industry can achieve, and the benefits of being close to the customer while having the local capabilities to meet specific local needs.
"For our Bendigo workforce this will mean continued production through 2012. We will continue to vigorously pursue opportunities for the Bushmaster Single Cab Utility Vehicle and the new Hawkei in order to maintain the viability of Bendigo production. Export opportunities are also being pursued, with the Bushmaster already securing export sales of over $100 million."
The contract takes the total number of Bushmasters ordered by the Department of Defence to 838.
Thales
22.06.2011

Share...




TEMPORARY COMPANY GROUPING EBMR MEETS ITS DELIVERY OBJECTIVES FOR 2019
14.01.2020
Rheinmetall Presents Next Gen "Wiesel Wingman" solution for Robotic Combat Vehicle – Light at AUSA 2019
04.11.2019
THALES AUSTRALIA AND GENERAL DYNAMICS ORDNANCE AND TACTICAL SYSTEMS DELIVERING FOR THE ADF
12.06.2019
The Dutch armed forces select Rheinmetall to modernize their Bergepanzer 3 Büffel
17.05.2019
Thales Raytheon Systems France
Thales Optronics (Taunton) Ltd
Thales Training & Simulation (USA)
Bushmaster (Wheeled armoured personnel carrier)
Bushmaster ACSV (Wheeled armoured personnel carrier)
Bushmaster IMV (Mine clearing vehicle)
Bushmaster Chain Gun (Machine gun)
Bushmaster MR6 (Wheeled armoured personnel carrier)
Discuss