QinetiQ Introduces Micro-Robot for Military Missions
Category: Robots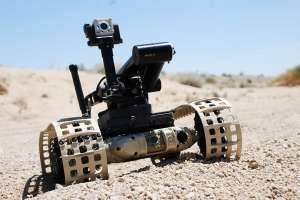 Reston, VA -- QinetiQ North America today announced the availability of a new Micro Unmanned Ground Vehicle (MUGV) for military and first responder robotic missions. At just over ten pounds, Dragon Runner 10 (DR10) is small enough to carry in an assault pack and rugged enough to throw into buildings and hostile environments.
With multiple sensor and payload options, DR10 is ideal for reconnaissance and surveillance missions to support small military units, patrols and first responder teams.
The warfighter uses a wearable controller to send DR10 in first, to assess the situation in advance. Whether it's being driven or thrown into a potentially hostile area, DR10 can quickly gain situational awareness and report information back to the operator. Its day and night sensors enable DR10 to serve as the team's forward eyes and ears, while carrying out critical missions such as Explosive Ordnance Disposal, setting counter-IED charges, delivering remote sensors, gathering intelligence and conducting surveillance.
"Military robotic missions save lives, and if possible, it's better to send the robot in first," said QinetiQ North America Technology Solutions Group President JD Crouch. "Dragon Runner 10 is a practical solution that makes it easier to carry and operate sophisticated robots in theater."
QinetiQ
19.08.2011

Share...




QinetiQ and Pratt Miller Deliver First Robotic Combat Vehicle - Light to U.S. Army
02.02.2021
BAE Systems Teams with QinetiQ to Pursue Electric Drive on Combat Vehicles
04.06.2017
QNA Partners with Persistent Systems to Integrate MPU5 Radios into Family of UGV
12.01.2017
BAE Systems` Team Challenger® 2 awarded Assessment Phase for Life Extension Project
25.12.2016
Dragon Runner Throwbot (Robot, Unmanned Vehicle)
Dragon Runner 10 (Robot, Unmanned Vehicle)
Dragon Runner 20 (Robot, Unmanned Vehicle)
Discuss