Elbit Systems will Supply the Israeli Ministry of Defense and a European Army with Lightweight Weapon Stations under Contracts for Approximately $21 Million
Category: Defence Industry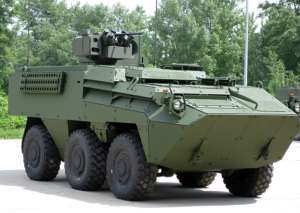 Haifa, Israel -- Elbit Systems Ltd. ("Elbit Systems") announced today that it was awarded contracts to supply Lightweight Weapons Stations (LWS) to the Israel Ministry of Defense (IMOD) and to a European Army.
In Israel, Elbit Systems was awarded a contract valued at approximately $11 million, for development and initial procurement, as part of an upgrade process of the Israel Defense Forcesí (IDF) lightweight weapons arsenal. The 7.62mm, 12.7mm and 40mm LWS are designed to be installed onboard Armored Personnel Carriers (APCs) and Armored Fighting Vehicles (AFVs) and are to be supplied over an 18-month period.
Elbit Systems was also awarded a contract, valued at approximately $10 million, to supply a European Army with 12.7mm LWS. The stations are to be installed onboard Pandur 6x6 vehicles and will be supplied over a period of one year.
Bezhalel (Butzi) Machlis,†General Manager- Elbit Systems Land and C4I Division, commented: "We are very proud of our selection to provide LWS to these two customers, reinforcing our position as global leading supplier of diverse types of weapon stations. Our solutions for full scale as well as low intensity conflicts, and our vast experience, enable us to provide customers with cutting edge solutions for all kinds of combat vehicle needs, and we hope other customers will follow."
About Elbit Systems
Elbit Systems Ltd. is an international defense electronics company engaged in a wide range of programs throughout the world. The Company, which includes Elbit Systems and its subsidiaries, operates in the areas of aerospace, land and naval systems, command, control, communications, computers, intelligence surveillance and reconnaissance ("C4ISR"), unmanned aircraft systems ("UAS"), advanced electro-optics, electro-optic space systems, EW suites, airborne warning systems, ELINT systems, data links and military communications systems and radios.†The Company also focuses on the upgrading of existing military platforms, developing new technologies for defense, homeland security and commercial aviation applications and providing a range of support services.
Sergyi Way
07.12.2011


www.army-guide.com
Share...




General Dynamics European Land Systems presents a new variant of PIRANHA IFV at the HEMUS Exhibition 2018
04.06.2018
Elbit Systems of Australia Concludes Successful Delivery of Thermal Weapon Sights to ADF
14.05.2018
Australian Minister for Defence Industry Publicly Announced Elbit Systemsí Award of Additional BMS for the ADF
28.11.2017
Rheinmetall selects Queensland for Military Vehicle Centre of Excellence
15.07.2017
Discuss