Empl is going to deliver 1014 swap bodies as well as 20 special trailers to the Austrian Armed Forces
Category: Defence Industry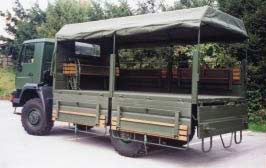 This specially developed swap system together with customized bodies totally meets the requirements of the Austrian Military for efficient utilisation. Furthermore, it offers the soldiers flexible and diverse possibilities of operation.
On July, 8th, Empl presented - together with the representatives of Daimler Chrysler and MAN Austria - the first prototype to the Austrian Minister of Defence. This prototype - a troop carrier mounted on an Unimog - is equipped with specially developed safety seats and is the first out of 236 swap bodies for troop carrying. In addition, Empl is going to deliver several 100 units of ambulances, cargo bodies, communication equipment carriers and mobile workshops.
The huge advantage of the swap bodies, developed by Empl: One and the same body can easily and safely be mounted either on one of the 268 all-terrain Unimog or on one of the 307 MAN road vehicles. Consequently, the HGV's are permanently in operation and used very economically. A special subframe enables "torsion-free" fixing of the swap bodies on the truck chassis.
Further advantages of the Empl swap system: It can be extended by any kind of special superstructure for future areas of operations and - for international operations - the bodies can be easily and efficiently carried by rail or, due to the system-integrated special trailers, by aeroplane.
The new HGV armada for the Austrian Armed Forces with Empl swap bodies - state-of-the-art technology, safe, flexible and economic!
EMPL Fahrzeugwerk
24.08.2005

Share...




The Transatlantic Partner for Land Defense in Europe - General Dynamics European Land Systems premiers four new offerings at EUROSATORY 2018
08.06.2018
BAE Systems to participate in IDEB in Bratislava
17.05.2018
BAE Systems contracts Czech firm VOP CZ for military vehicle components
21.03.2017
Austria to Buy 32 BAE Systems BvS10 All-Terrain Vehicles
02.07.2016
Daimler Chrysler Aerospace, Defence & Civil Systems
Mercedes-Benz UK Defence, Daimler Chrysler UK Ltd
Discuss