KONGSBERG awarded major Nordic contract
Category: Contracts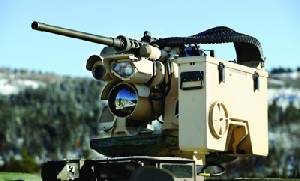 KONGSBERG has been awarded a framework agreement valued at MNOK 960 for delivery of PROTECTOR Nordic Remote Weapon Stations for the Norwegian and Swedish Armed Forces.
The contract is an extension of the agreement disclosed 31 January 2011. At the same time a delivery contract valued at MNOK 380, within the framework agreement, was signed.
KONGSBERG has produced and delivered Remote Weapon Stations (RWS) for over a decade and this contract reflects one of the most technically advanced RWS ordered to date. The new order includes systems for both the Norwegian and Swedish Defence Forces, forming a solid foundation for cooperation in Nordic material programs.
The PROTECTOR Remote Weapon Station provides enhanced protection and security for the men and women serving in the armed forces by enabling operations to be conducted from a protected position inside the vehicle.
"Our systems have been used under extreme conditions for many years, and have proven to be a valuable asset for our customers and the soldiers serving in the field," says Egil Haugsdal, President Kongsberg Protech systems.
"These two customer nations are strategically important to KONGSBERG as key Nordic nations. Cooperation with both Norway and Sweden is an important focus in the company and we are looking forward to executing this program together with our customers."
The systems will be produced in Kongsberg, and deliveries are expected to commence medio 2012.
KONGSBERG
22.12.2011

Share...




Oshkosh FMTV A2 Makes Debut at Ausa 2018, Multiple JLTVS Command the Floor
14.10.2018
Kongsberg and Milrem Robotics Showcase a Robotic Antitank and HMG System at AUSA
14.10.2018
Huge potential for KONGSBERG in Qatar
14.03.2018
Kongsberg Signs Orders to the CROWS Program Valued at 330 MNOK
05.12.2017
Kongsberg Defence & Aerospace AS
M151 Protector RWS (Remote controlled weapon station)
Protector Javelin (Remote controlled weapon station)
Protector Lite (Remote controlled weapon station)
M 153 Protector CROWS II (Remote controlled weapon station)
Protector (Wheeled armoured personnel carrier)
Protector MAV (Wheeled armoured personnel carrier)
Casspir Mk VI Protector (Mine protected carrier)
Protector Dual RWS (Remote controlled weapon station)
Protector Super Lite (Remote controlled weapon station)
PROTECTOR MCT-30 (Remote controlled weapon station)
Protector Nordic (Remote controlled weapon station)
Protector (Robot, Unmanned Vehicle)
CROWS-J (Remote controlled weapon station)
Discuss