BAE Works with Army Depot to Reset Wheeled Military Vehicles
Category: Defence Industry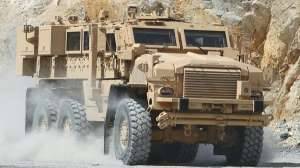 BAE Systems received a $37.6 million contract from the Letterkenny Army Depot to provide spare parts and kits for 250 Medium Mine Protected Vehicles, a 6x6 state-of-the-art wheeled military vehicle.
"Over the past several years, we have worked closely with the Letterkenny Army Depot on a variety of programs for our U.S. military," said Robert Houston, vice president and deputy general manager of Weapon Systems and Support at BAE Systems. "Our partnership on the MMPV program will not only increase the capabilities of the vehicle, but also help to strengthen our partnership with the Letterkenny Army Depot."
The MMPV has a V-shaped hull that provides superior blast protection against symmetrical, asymmetrical and unconventional explosives hazards. The wheeled vehicle also has a large modular interior, high mobility chassis and extensive equipment options and is an ideal platform for any mission in an explosive hazard environment. Soldier-friendly features include large ballistic windows, a 360-degree situational awareness suite and a rear ramp for the deployment of remotely operated unmanned ground vehicles for use in route and area clearance missions.
The spare parts and kits will be assembled by the existing workforce at the BAE Systems facility in Anniston, Alabama.
BAE Systems PLC
30.11.2012

Share...




BAE Systems` CV90 increases lethality by testing SPIKE LR anti-tank guided missile
14.01.2020
U.S. Marine Corps orders more Amphibious Combat Vehicles
11.11.2019
RAVEN Countermeasure System protects vehicles from missile threats
15.10.2019
BAE Systems unveils Robotic Technology Demonstrator Vehicle at AUSA
15.10.2019
BAE Systems Land Systems Hagglunds AB
BAE SYSTEMS Advanced Technology Centre
BAE SYSTEMS Customer Solutions & Support Land & Sea
BAE SYSTEMS Operational Training
BAE SYSTEMS RO Defence Small Arms Ammunition Division
BAE Systems North America, Land & Information Systems
Discuss