Force Protection Armored Vehicles Win Praise from Combat Troops in Iraq
Category: Defence Industry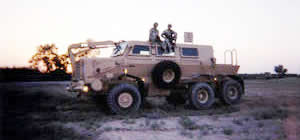 LADSON, S.C. -- Force Protection, Inc. has received accolades from military users for its specialty armored vehicles which have been deployed in active operations in Iraq and Afghanistan for nearly three years.
"The Buffalo saved our lives on our first mission," said Specialist Franklin Miles. "An IED went off and blew out three tires and the radiator had a hole in it, but nobody inside was hurt. There have been no casualties in a Buffalo in Iraq."
Force Protection supplies U.S. and Coalition forces with specialty vehicles designed to withstand blast and ballistic attacks. More than 90 vehicles have been shipped since 2003. That number is expected to double by June 2006. The most serious reported injury sustained by an occupant of a Force Protection vehicle to date has been a broken wrist.
"Two of my men in Ramadi survived an IED attack while in the Cougar, so I am a believer," wrote U.S. Navy EOD Lieutenant Cameron Chen. "I have gone on a few response calls in the Cougar and I drove one from Fallujah to Ramadi. All agree that it's the safest vehicle."
1st Lieutenant Elijah Simpson agreed. "Safety is a large factor and is the purpose for this vehicle and its design," he wrote. "The Buffalo is the safest vehicle out there."
Force Protection's vehicle series, the Buffalo mine clearance and Cougar EOD and combat engineer transport, are used by all branches of the U.S. military and Coalition forces to protect against explosive attacks from improvised explosive devices (IEDs), land mines and roadside bombs.
"It is enormously encouraging to receive this type of feedback from our troops on the ground in Iraq and Afghanistan," said Force Protection Vice President Michael Aldrich. "The vehicles are built to save lives, and hearing these first hand accounts inspires in us an even greater commitment to build the world's finest mine- and blast-protected vehicles. The testimonials we post to our Web site represent only a fraction of the praise we have received from our customers. Unfortunately, due to heightened security surrounding our vehicles and at the request of the Department of Defense, we do not comment on sensitive operations nor the exact numbers or locations of the vehicles."
"The Buffalo has the toughest niche job in the US Army - to find and destroy the insidious IEDs the insurgents plant along the roads," said Captain Daniel Bout. "American ingenuity has taken something good, and made it great."
Force Protection receives messages from around the world and updates them periodically at its Web site, www.forceprotection.net.
Force Protection, Inc.
20.01.2006

Share...




Rheinmetall MAN Survivor R special protected vehicle on show at GPEC 2020 international security exhibition in Frankfurt/Main
24.02.2020
The Dutch armed forces select Rheinmetall to modernize their Bergepanzer 3 Büffel
17.05.2019
BAE Systems awarded Armored Multi-Purpose Vehicle contract modifications by U.S. Army for Low-Rate Initial Production
24.02.2019
Rheinmetall Mission Master Dominates European Ground Robotic Systems Competition at ELROB 2018
04.11.2018
Buffalo H (Mine clearing vehicle)
Buffalo (Wheeled armoured personnel carrier)
Turkar Buffalo (Mine protected carrier)
Discuss