RAFAEL Introduces Personal Ceramic Armor Especially Designed For The Modern Soldier
Category: Future Technologies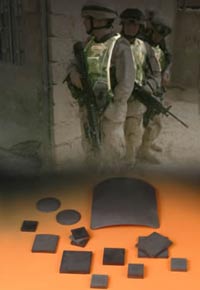 Haifa, -- RAFAEL Armament Development Authority Ltd. has received an order valued at $2.2M for ultra lightweight personal ceramic armor intended to protect the individual soldier on the modern battlefield.
Developed by RAFAEL, this unique armor is made of boron carbide, one of the hardest materials known and has the ability to defend against high velocity projectiles at a lower cost than that of its competitors.
During extensive ballistic testing carried out both in Israel and abroad, RAFAEL's boron carbide ceramic tiles encased in polyethylene withstood all threats and fulfilled requirements previously indicated by interested customers.
This new technology enables the use of ceramic armor not only for personal armor, but for the protection of vehicles and helicopters as well.
According to RAFAEL's figures, this ceramic technology will lead RAFAEL to new markets with sales worth tens of millions of dollars.
RAFAEL
25.01.2006

BAE Systems` CV90 increases lethality by testing SPIKE LR anti-tank guided missile
14.01.2020
Rheinmetall unveils the Lynx KF41 Next-Generation Combat Vehicle
18.06.2018
General Dynamics European Land Systems presents a new variant of PIRANHA IFV at the HEMUS Exhibition 2018
04.06.2018
Oshkosh Defense Showcases JLTV Vehicles With Next Generation Weapon Integration Capabilities At AUSA 2017
10.10.2017
RAFAEL Armament Development Authority Ltd.