From contract to delivery within eight months when the Netherlands buys BvS10 from Hagglunds
Category: Defence Industry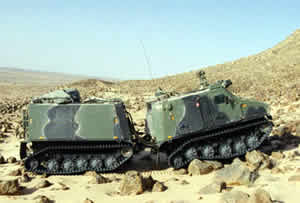 When BAE Systems Hagglunds today delivers the first armoured all terrain vehicle, called BvS10, to the Dutch Army barely eight months have passed since the contract was placed.
– We are very content with Hagglunds and the company´s ability to keep the time agre-ed for the first delivery. A key to the success has been the unconventional but flexible way of working regarding the processes of development, purchase and production says Brig.Gen. Paul Opgenort
– Characteristic for this project is how fast and smooth everything has functioned, says Sven Kagevall, Managing Director of BAE Systems Hagglunds. The cooperation with the Dutch customer has been characterized by a mutual trust. We have in all aspects had a profound collaboration on each level, which also has resulted in an extremely short period of time between order and delivery. This shows Hagglunds ability to real-ize a project in a short period of time, which is valuable to our customers who live and act in an increasingly changing time.
The purchasing process was accomplished in less than three months. The lead time be-tween contract and serial delivery has been only 8 months.
The Netherlands has totally ordered 74 BvS10 (also delivered to the British Royal Marines under the name of "Viking"). The delivery contains four variants of the BvS10; 46 vehicles for troop carrying, 20 commander vehicles, 4 recovery vehicles and 4 ambulance vehicles. The deliveries will take place during 2006 and 2007. The product name "Viking" will also be adopted by the Dutch Army.
The BvS10 is the latest generation of the BAE Systems Hagglunds All Terrain Vehicle family, and is based on more than 25 years experience of articulated all terrain vehicle design and production.
Parallel to the manufacturing of the BvS10 continues the realization of CV9035 to the Nether-lands. These vehicles will be delivered from 2007 through 2010.
BAE Systems Hagglunds
27.01.2006

Share...




BAE Systems to participate in IDEB in Bratislava
17.05.2018
BAE Systems expands teaming in Italy for highly mobile armored vehicles
25.07.2017
BAE Teams With Ray Service to Support Swedish Mjolner Mortar Program
03.05.2017
Austria to Buy 32 BAE Systems BvS10 All-Terrain Vehicles
02.07.2016
BvS10 VIKING (Tracked armoured personnel carrier)
Discuss