MTI MICRO Demonstrates MOBION® Uunits For Key Customer
Category: Future Technologies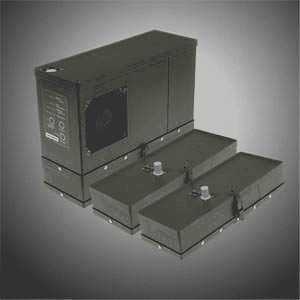 MTI MicroFuel Cells Inc. (MTI Micro), the developer of the award-winning Mobion® micro fuel cell technology and a subsidiary of Mechanical Technology Incorporated, announced today it achieved its third quarter milestone of demonstrating a product-intent military portable power system with its Mobion®-30M product platform.
Officials from both MTI Micro and The Air Force Research Laboratory — Information Directorate ("AFRL"), one of MTI Micro's key customers in military applications, were present for the demonstration of a Mobion®-30M prototype — a system designed to produce potentially up to 600 Watt hours of run-time per cartridge which would allow airmen to power an average laptop over seven times longer than its current Lithium-ion battery. In addition, since the Mobion®-30M prototype can support up to 30 Watts of average power and over 100 Watts of peak power, it can power a wide-range of rugged electronic devices in the field. When compared to the number of batteries required for a 72 hour mission, one Mobion®-30M unit and two additional easy-to-swap, 100% methanol fuel cartridges are expected to weigh about one-half the weight of currently used batteries. For the same amount of power, deployed airmen would have to carry nine BA5590 batteries.
"The design of MTI Micro's Mobion technology enables us to create systems that are lighter weight and longer lasting in the field," said William Cook, Senior Engineer at Air Force Research Laboratory in Rome, New York. "This demonstrates the viability of fuel cell technology and MTI Micro's commitment to working with the Air Force to bring this new technology into the field for testing."
MTI Micro received a purchase order for fuel cell evaluation kits from AFRL earlier in the year. The purchase order includes the delivery of Mobion®-30M prototypes and fuel refills as well as initial training and technical support. AFRL intends to use these fuel cell evaluation kits in a program for the development of satellite communication terminals ("SATCOM"), which are portable high data rate transmission systems used in communications by special operations forces. AFRL plans to integrate Mobion® into these terminals — providing weight reductions and mobility benefits if deployed into the field.
"We recognize what our military customers need — a rugged, light, compact, power-pack that can work in most operational environments, and run longer than batteries," said Juan Becerra, Vice President of Market and Business Development for MTI Micro. "We are focused on developing products that can meet those requirements and improve the mobility and effectiveness of our soldiers."
AFRL's interest in researching these fuel cells to power SATCOM systems is receiving Congressional attention and support. The conference report to the defense appropriations bill includes language that encourages AFRL to continue to develop and test hybrid fuel cell power systems for SATCOM applications and also encourages the Air Force to continue this important research as it pertains to current and future missions.
This release follows an earlier announcement by MTI Micro on achieving its milestone of exceeding the energy density of a Li-Ion battery with a consumer prototype designed to produce over 95 Watt hours of continuous run-time with the capability of being refueled instantly, allowing users to charge a number of portable electronic products including GPS systems, gaming devices, MP3 players, and digital cameras.
MTI Micro
04.10.2006

Share...




UK company pioneers autonomous hybrid vehicle for extreme off road operations
12.09.2019
Axletech Reveals Electric Independent Suspension Concept Aa Eurosatory 2018
19.06.2018
GM Outlines Possibilities for Flexible, Autonomous Fuel Cell Electric Platform
13.10.2017
LM to Integrate Fuel Cells, Solar Power for Military Applications
08.08.2012
MTI MicroFuel Cells Inc. - MTI Micro
Discuss