Light-applique armour to be fitted to Mastiff Protected Patrol Vehicles
Category: Defence Industry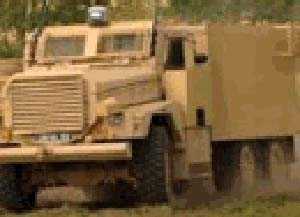 QinetiQ subsidiary Foster-Miller Inc, has announced that its LAST(r) Armor division has received a $10 million subcontract from Force Protection Industries Inc, to supply add-on armour for 85 vehicles ordered by the UK Ministry of Defence (MoD). The new transport vehicles, to be called Mastiff Protected Patrol Vehicles (PPVs) are designed to help protect British forces and are expected to be delivered over the next six months.
Foster-Miller's Light-applique Armour Systems Technology (LAST(r) Armor) was developed in the 1990s to further protect military vehicles from hostile fire. The armour is attached with proprietary, high-strength Velcro(r) hook-and-loop fasteners that are five times stronger than conventional Velcro. No cutting, welding or drilling is required to install the armour.
LAST(r) Armor has been used on American, Canadian and French ground vehicles and is also used to reinforce plane cockpits by the Air Forces of ten nations around the world. LAST(r) Armor division has also recently introduced its own line of spall liners to the market. Spall liners provide additional protection from ballistic fragments such as those created by explosions of IEDs (improvised explosive devices).
The Mastiff PPV (a variant of the US Cougar) meets the MoD's requirement for a well protected, wheeled patrol vehicle with a less intimidating profile than tracked vehicles like Warrior or FV430. In additional to raising armour level beyond the standard, the vehicles will be customised with essential Bowman radios and electronic counter-measures.
Sergyi Way
26.10.2006


www.army-guide.com
Share...




Eurosatory 2018: Patria 6X6 - Multifunctional transport capacity far into the future
12.06.2018
Rheinmetall at DSEI 2017
12.09.2017
Rheinmetall at IDEX 2017
25.02.2017
Rheinmetall wins ˆ135 million Bundeswehr order for survivability upgrades of Fuchs/Fox armoured transport vehicles
16.12.2016
Mastiff PPV (Mine protected carrier)
Discuss