M777 Lightweight Howitzer Update Gives More Range and Accuracy
Category: Defence Industry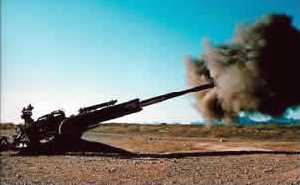 Arlington, Virginia -- The latest version of BAE Systems' M777 Lightweight 155mm Howitzer is now cleared to fire a longer-range and more accurate projectile following official approval.
The receipt of a Full Material Release for the A2 version from the Commanding General of the U.S. Army TACOM Life Cycle Management Command means that the necessary upgrades can be issued to U.S. Army and U.S. Marine Corps units.
Full Material Release means that the system meets all safety and operational requirements for fielding. This is achieved only after thorough testing of the system and its software to strict test regimes.
The A2 version of the howitzer incorporates a software update that enables the howitzer to program and fire the M982 Excalibur Guided Projectile. The Excalibur brings precision fire to field artillery at all achievable ranges. The Excalibur projectile will give the M777A2 howitzer a maximum range of 40km with accuracy on target within 10 meters. This is an increase over the current range of the howitzer of 30km using unguided munitions.
The M777A2 version of the howitzer will be the version issued to all U.S. Army and USMC units and previously-equipped M777A1 howitzer units will receive a software upgrade to bring their systems to A2 standard. Both the 11th Marine Regiment and the 10th Marine Regiment have received the A2 version. The 3rd Battalion, 321st Field Artillery Regiment, at Fort Bragg, North Carolina, is currently undergoing initial fielding of the M777A2 for the U.S. Army. The 2nd Battalion 11th Field Artillery Regiment at Schofield Barracks, Hawaii was equipped with M777A1 howitzers in January 2007. They will be converted to the A2 version later this year.
BAE Systems
26.07.2007

BAE Systems` CV90 increases lethality by testing SPIKE LR anti-tank guided missile
14.01.2020
U.S. Marine Corps orders more Amphibious Combat Vehicles
11.11.2019
RAVEN Countermeasure System protects vehicles from missile threats
15.10.2019
BAE Systems unveils Robotic Technology Demonstrator Vehicle at AUSA
15.10.2019
BAE Systems Land Systems Hagglunds AB
BAE SYSTEMS Advanced Technology Centre
BAE SYSTEMS Customer Solutions & Support Land & Sea
BAE SYSTEMS Operational Training
BAE SYSTEMS RO Defence Small Arms Ammunition Division
BAE Systems North America, Land & Information Systems