PVI ANNOUNCES NEW PROTECTED COMBAT VEHICLE
Category: Defence Industry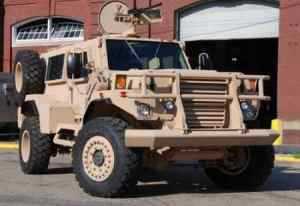 North Charleston, SC- Protected Vehicles, Inc. is pleased to announce development of its newest wheeled combat vehicle The Protector.
Designed to improve upon the shortcomings encountered by the current HMMWV in operational theatre during missions and patrols in Iraq and Afghanistan, The Protector offers advanced armor solutions to threats from both improvised explosive devices (IEDs) and the more recent and devastating explosively formed penetrators (EFP) utilized by the enemy. With a curb weight of only 14,000 pounds, The Protector offers improved safety from ballistics, IEDs and EFPs in a lighter package than the HMMWV. In addition to standard armor, The Protector is designed to accept the up-armor ShieldAll™, available exclusively from Protected Vehicles, Inc. This revolutionary next-generation composite armor material is not only a lighter, more capable and cost-effective armor solution to steel, but has also been repeatedly tested at U.S. Government facilities as a proven defense against deadly EFPs. As the threats on a new asymmetric battlefront continue to evolve, The Protector has arrived to mitigate risks, protect the war-fighters and accomplish the mission.
Standard Specifications:
Excess Payload of 7,500 lbs
Optional Specifications:
IED and EFP Protection with ShieldAllTM
Nuclear, Biological and Chemical (NBC) Protection
The Protector is PVI's third vehicle, preceded by the GOLAN and the ALPHA. The company is currently providing both GOLANs and ALPHAs for the military.
About Protected Vehicles, Inc.
Protected Vehicles, Inc. designs and manufactures mine and ballistic protected vehicles using advanced U.S. technology; technology derived from Rhodesian and South African vehicle development programs carried out from 1970 through 1994; and U.S. DoD technology developments. Founded in 2005 by Garth Barrett, a pioneer in blast and ballistic protection since the early 1970's, PVI is headquartered in North Charleston, South Carolina. The Company has approximately 600,000 square feet of R&D and heavy metal fabrication space capable of cutting, bending, and manufacturing; thus enabling complete onsite fabrication of capsules and vehicle assemblies. PVI and Battelle announced ShieldAll™ in 2006, a breakthrough in multi-hit capable armor protection approximately 1/3 the weight of armored steel.
PVI
31.07.2007

Share...




KONGSBERG CONCLUDES A $ 54 MILLION CONTRACT FOR THE DELIVERY WEAPON STATIONS TO CANADIAN ARMY
05.06.2020
CONTRACT TO DELIVER REMOTE WEAPONS STATIONS TO DENMARK WORTH 270 MNOK
11.12.2019
Oshkosh FMTV A2 Makes Debut at Ausa 2018, Multiple JLTVS Command the Floor
14.10.2018
Huge potential for KONGSBERG in Qatar
14.03.2018
M151 Protector RWS (Remote controlled weapon station)
Protector Javelin (Remote controlled weapon station)
ShieldAll (Ballistic protection)
ALPHA (Wheeled armoured personnel carrier)
GOLAN (Wheeled armoured personnel carrier)
Protector Lite (Remote controlled weapon station)
M 153 Protector CROWS II (Remote controlled weapon station)
Protector (Wheeled armoured personnel carrier)
Protector MAV (Wheeled armoured personnel carrier)
Casspir Mk VI Protector (Mine protected carrier)
Protector Dual RWS (Remote controlled weapon station)
Protector Super Lite (Remote controlled weapon station)
PROTECTOR MCT-30 (Remote controlled weapon station)
Protector Nordic (Remote controlled weapon station)
Protector (Robot, Unmanned Vehicle)
Discuss