Steyr-led team completes first 17 Pandur II vehicles within contract requirements
Category: Defence Industry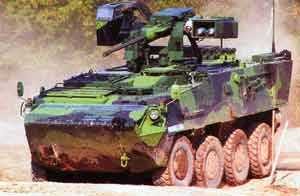 Steyr, a part of General Dynamics European Land Systems, announced today that the first 17 Pandur II wheeled armoured vehicles to be manufactured for the Armed Forces of the Czech Republic (AFRC) under a contract awarded in June 2006 are fully operational, combat-ready and ready for delivery from the Steyr facility in Vienna.
The vehicles are being produced by a team that includes Czech subcontractors who will contribute more than 40 percent of the components in the Pandur II vehicles once serial production begins.
The first 17 vehicles were manufactured within the tight timeline established by the Czech Army, a direct result of good coordination between Steyr and its Czech subcontractors. The involvement of Czech industry was one of the AFRC's main preconditions in selecting a contractor for this program, and has required significant investment by members of the Steyr team.
"These first seventeen vehicles are fully operational and combat ready. They have proved their capabilities in MOD testing and training, and could go into service immediately to provide improved armour and mine protection for Czech soldiers," said Stefan Szücs, project manager for the Pandur program.
Mr. Szucs added, "There are currently more than twelve direct Czech subcontractors involved in the project, enabling us to meet the local-content condition set by the Czech government."
Steyr and AFRC are discussing plans to implement several minor modifications to the vehicles, requested as a result of opportunities identified during readiness testing, in the near future.
Timeline of the preparation and production of the vehicles
In June 2006, the Czech Republic awarded the contract for the delivery of 199 Pandur II 8x8 wheeled armoured carriers to Defendia CZ, a Czech subsidiary of Steyr-Daimler-Puch Spezialfahrzeug GmbH (Steyr SFF) and its parent group, General Dynamics European Land Systems. Beginning with the 18th vehicle, most Pandur IIs will be manufactured in the Czech Republic. The vehicles include many advanced Czech components such as the combat information system, communication equipment and optical systems. All 199 vehicles will be delivered to the AFRC before the end of 2012.
Through this competitive procurement, the AFRC will receive one of the most-advanced wheeled armoured carriers in the world, the Pandur II 8x8. The Pandur vehicles will be made in a total of 18 configurations, including 63 armoured personnel carriers (APC). The vehicles will be equipped with a Rafael remote-controlled weapon system (RCWS 30) and a Spike- LR anti-tank guided missile launcher. The Pandur II 8x8 APC is designed so that it can be transported in combat configuration aboard C-130 cargo aircraft. In addition to manufacturing the vehicles, the Steyr-led consortium of leading Czech and international companies also will supply full training and logistical support for the Pandur IIs.
Steyr
05.12.2007

Share...




CZECH REPUBLIC SIGNED THE ACQUISITION CONTRACT FOR 62 TITUS
30.07.2019
BAE Systems debuts iFighting® for combat vehicles at Eurosatory
12.06.2018
BAE Systems to participate in IDEB in Bratislava
17.05.2018
BAE Systems introduces next evolution of Infantry Fighting Vehicle with new CV90 MkIV
24.01.2018
Monch, Office for Czech and Slovak Republic
General Dynamics European Land Systems-Steyr GmbH
ASSOCIATION OF THE DEFENCE INDUSTRY OF THE CZECH REPUBLIC - AOP
STEYR MANNLICHER GMBH. & CO.KG
Czech Army Foreign Relations Office
MAGNA POWERTRAIN, Engineering Center Steyr GmbH & CoKG
PANDUR II 8x8 (Wheeled armoured personnel carrier)
PANDUR II 6x6 (Wheeled armoured personnel carrier)
PANDUR II 6x6 (Command vehicle)
Discuss