BAE Awarded $130 M Contract for Thermal Weapon Sights
Category: Contracts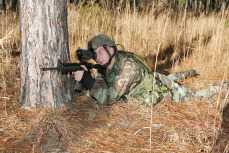 BAE Systems has been awarded a $130 million U.S. Army order for production of thermal weapon sights.
The order is the second award under a five-year indefinite-delivery/indefinite-quantity contract, and increases the total contract value to more than $313 million. It also increases BAE Systems' monthly deliveries to 3,000 units per month starting in 2009.
The Army's Program Executive Office Soldier at Fort Belvoir, Virginia, is the contracting authority.
BAE Systems has delivered more than 20,000 thermal weapon sights to date under a separate five-year, $295 million contract administered by the Army's Communications-Electronics Command at Fort Monmouth, New Jersey. Final deliveries will be completed in 2008, more than 15 months ahead of the original contract schedule.
These advanced thermal weapon sights give soldiers a tactical advantage on today's battlefield by significantly improving situational awareness, lethality and survivability. The individual soldier now has a 24/7 day-and-night capability to detect, identify, and engage targets at increased ranges under adverse conditions.
BAE Systemsí microbolometer thermal imaging technology allows soldiers to see deep into the battlefield during day and night, through smoke, fog, and other obscurants. The sights are used on rifles, machine guns, and mounted weapon systems to significantly improve surveillance and target acquisition capabilities.
Sergyi Way
13.03.2008


www.army-guide.com
Share...




BAE Systems` CV90 increases lethality by testing SPIKE LR anti-tank guided missile
14.01.2020
U.S. Marine Corps orders more Amphibious Combat Vehicles
11.11.2019
RAVEN Countermeasure System protects vehicles from missile threats
15.10.2019
BAE Systems unveils Robotic Technology Demonstrator Vehicle at AUSA
15.10.2019
BAE Systems Land Systems Hagglunds AB
BAE SYSTEMS Advanced Technology Centre
BAE SYSTEMS Customer Solutions & Support Land & Sea
BAE SYSTEMS Operational Training
BAE SYSTEMS RO Defence Small Arms Ammunition Division
BAE Systems North America, Land & Information Systems
Discuss