General Dynamics Awarded $62.5 Million for Abrams Integrated Management Materials
Category: Contracts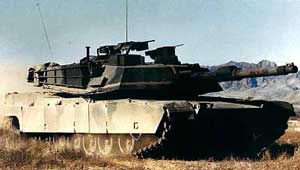 STERLING HEIGHTS, Mich. --- The U.S. Army TACOM Life Cycle Management Command has awarded General Dynamics Land Systems, a business unit of General Dynamics, a $62.5 million contract for the material associated with the production of 75 Abrams Integrated Management (AIM) tanks.
Initial funding authorized under the contract was $31.25 million. AIM is a joint effort to refurbish M1A1 Abrams main battle tanks involving the U.S. Army Project Manager for Combat Systems; the TACOM Life Cycle Management Command; its Anniston Army Depot, Anniston, Ala.; and General Dynamics Land Systems.
Under the AIM program, M1A1 Abrams tanks are completely disassembled and overhauled to a like-new condition. Refurbished AIM tanks incur lower operational and support costs and report higher operational readiness rates. Work will be performed in Lima, Ohio, and Eynon, Pa., by existing General Dynamics employees. The 75 AIM tanks are scheduled for delivery to U.S. Army units beginning in July 2006.
GDLS
27.04.2005

Share...




U.S. Army awards General Dynamics contract for Mobile Protected Firepower
19.12.2018
General Dynamics Receives Delivery Order to Upgrade 100 Abrams Main Battle Tanks
31.07.2018
General Dynamics Receives Contract to Upgrade U.S. Army Strykers to A1 Configuration
28.06.2018
ATI Announces New Long-Term Agreements With General Dynamics Land Systems
30.01.2018
General Dynamics Land Systems - GDLS
General Dynamics Land Systems - GDLS - Canada
M1A2 Abrams (Main battle tank)
M1A1 Abrams (Main battle tank)
M1A1 Abrams (Main battle tank)
M1A2 Abrams (Modernization of the vehicle)
M1A2 SEP Abrams (Modernization of the vehicle)
M1A1 AIM Abrams (Modernization of the vehicle)
M1A1 Abrams (Armoured vehicle-launched bridge)
M1A2 TUSK Abrams (Modernization of the vehicle)
M1A1-SA Abrams (Modernization of the vehicle)
M1 Abrams Panther II (Mine clearing vehicle)
Discuss