Oshkosh Defense Receives EMD Contract to Develop JLTV - the Future of Light Tactical Vehicles
Category: Future Technologies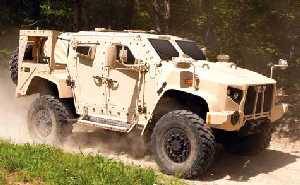 OSHKOSH, Wis. -- The U.S. Department of Defense has awarded Oshkosh Defense, a division of Oshkosh Corporation, a contract for the Joint Light Tactical Vehicle (JLTV) program's Engineering, Manufacturing and Development (EMD) phase. The JLTV program aims to replace many of the U.S. military's aged HMMWVs with a lightweight vehicle that offers greater protection, mobility and transportability.
"The JLTV program is critical to supporting our troops who stand in harm's way and deserve the best equipment that industry can provide," said John Urias, Oshkosh Corporation executive vice president and president, Oshkosh Defense. "The Oshkosh JLTV solution will allow the Army and Marine Corps to provide unprecedented levels of protection and off-road mobility in a light vehicle – so that their troops can accomplish their missions and return home safely."
JLTV is managed by the Joint U.S. Army and U.S. Marine Corps program, under the leadership of the U.S. Army's Program Executive Office for Combat Support and Combat Service Support (PEO CS&CSS). Under the contract, Oshkosh will deliver 22 Oshkosh-designed and manufactured JLTV prototypes within 365 days of contract award, and support government testing and evaluation of the prototypes.
Since 2006, Oshkosh has invested significantly in independent R&D to develop its JLTV solution. Oshkosh employed a generational product development approach that aligned to rapidly evolving technical requirements. As a result, the Oshkosh JLTV delivers the latest automotive technologies, an advanced crew protection system, and a next generation TAK-4i™ independent suspension system to achieve JLTV performance at an affordable price. The Oshkosh JLTV is fully tested, ready for initial production, and meets or exceeds the requirements of the JLTV program.
"The Oshkosh JLTV solution was designed with a purpose – to keep Warfighters safe on future battlefields with unpredictable terrain, tactics, and threats," said John Bryant, vice president and general manager of Joint and Marine Corps Programs for Oshkosh Defense. "Oshkosh has a 90-year history of delivering high quality military vehicle programs on-time and on-budget, and our JLTV program is no exception. We understand how critical this light, protected, off-road vehicle will be to Warfighters."
The Oshkosh JLTV solution, called the Light Combat Tactical All-Terrain Vehicle, or L-ATV, offers an advanced crew protection system that has been extensively tested and is proven to optimize crew survivability. The L-ATV can accept multiple armor configurations, which allows the vehicle to adapt easily to changing operational requirements. The L-ATV also applies the Oshkosh TAK-4i™ intelligent independent-suspension system to provide significantly faster speeds when operating off-road, which can be critical to troops' safety.
Oshkosh Defense has an unwavering commitment to the men and women who serve our nation. Notably, Oshkosh was awarded the M-ATV contract in June 2009 on an urgent needs basis. Oshkosh ramped up production at a historical pace – delivering 1,000 vehicles per month within six months. Oshkosh delivered more than 8,700 M-ATVs, most of which were deployed in Afghanistan and are credited for saving thousands of troops' lives.
"Oshkosh's M-ATV is the only vehicle in the combat theater in Afghanistan performing the JLTV's mission profile," said Bryant. "We delivered more than 8,700 M-ATV's on-time and on-budget, and Oshkosh will bring the same level of commitment to the JLTV program."
Oshkosh
15.06.2013

Share...




Oshkosh Defense Receives Order for 248 Joint Light Tactical Vehicles
02.07.2020
Oshkosh Defense Receives $407.3 Million Order for Joint Light Tactical Vehicles
24.02.2020
Oshkosh Defense Exhibits JLTV Firepower at IDEX 2019
24.02.2019
Oshkosh FMTV A2 Makes Debut at Ausa 2018, Multiple JLTVS Command the Floor
14.10.2018
L-ATV/JLTV (Mine protected carrier)
Discuss