MBDA and Bharat Dynamics Limited Strengthen Cooperation at Aero India 2005
Category: Defence Industry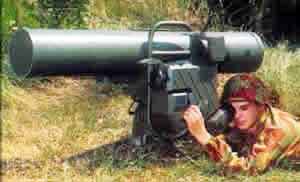 MBDA and Bharat Dynamics Limited have signed a Memorandum of Understanding (MoU) for the development and production of a further version of Milan anti-tank missile named Milan ER or Indan. The agreement was signed during Aero India 2005 exhibition at Bangalore, India.
The new Milan ER anti-tank weapon system will be available to the French and Indian armies as well as to export customers worldwide. The portable Indan/Enhanced Milan will be used, like its predecessors, by the infantrymen. Bharat Dynamics will use the expertise gained during the license production of Milan 2 missile system, which started in 1981.
Indan/Milan ER features anti-jamming capability and extended range while retaining the wire-based guidance to meet the requirements specified by both India and France, which are the launch customers for the weapon. MBDA and Bharat anticipated that they will set up a joint venture in the latter half of 2005. Ultimately, that joint venture could extend cooperation between the companies to the Aster and Mica families of missiles.
Actually, both companies are actively promoting the ground-based Mica vertical launch missile for the Indian Air Force Low Level Quick Reaction Missile (LLQRM) requirement. VL Mica additional applications include deployment in small-sized ships to protect them from the wide range of air threats as well as its well-known air-to-air missile equipped with Infrared or RF seeker.
Sergyi Wey
22.02.2005


www.army-guide.com
Share...




MBDA SHOWCASES TANK DESTROYER VEHICLE WITH PGZ AT MSPO 2019
12.09.2019
Kongsberg and Milrem Robotics Showcase a Robotic Antitank and HMG System at AUSA
14.10.2018
MBDA and Milrem Robotics to Develop Anti-Tank UGV
18.06.2018
Defence Secretary announces £55m contract for UK bomb disposal robots at DSEI
14.09.2017
Discuss