The DGA delivers first PVP to French Army
Category: Army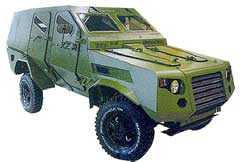 The French Defense Procurement Agency (DGA) has delivered to the French Army the first 30 small protected vehicles (PVP). These deliveries are the result of an initial order for 314 vehicles passed in 2004.
The current conditions require external commitments to improve the protection of warfighters. Launched in 2001, the program PVP responds to this need for all-terrain vehicles, protected air transportable and carrying a crew of 3 to 4 men. The vehicle is available in two versions, the "Placing" to equip the units and support and the "Command" to the cells of command of the infantry.
The procurement contract was notified in September 2004 and provides for the supply of 933 PVP for an amount of 150 million euros. Panhard General Defense is the project manager in charge of industrial development and production of vehicles on the 2 industrial sites in Marolles-Hurepoix (93) and Saint-Germain-Laval (42).
Air transportable in C130 and C160 or using helicopter slings, the PVP is a 4x4 vehicle topped with a shielded cell that ensures the protection of personnel, equipment and motor transport. It is equipped with a holder for the 7.62 mm machine gun. The diesel brand IVECO of 4-cylinder in-line (2.8 liters engine capacity) develops an output of 160 hp. The transmission is provided by a gearbox 4 speed automatic.
The protection, very good for a vehicle in this category, is not at the expense of the equipment of this vehicle equipped with air conditioning, tyre fitted with a run-flat, a variable pressure inflation system and an electric winch. Having a payload of 750 kg, the PVP has an internal volume of more than 3m3 through modular rails fixed to the floor, on the inner faces and on the roof that predispose to receive a SIT (Terminal Information System ). Additionally, it can tow a trailer of 750 kg.
DGA
22.04.2008

Share...




Discuss