32 tonne trucks roll off the production line
Category: Defence Industry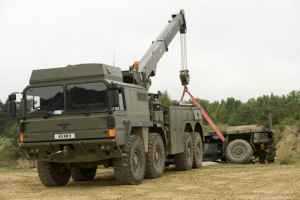 UK troops are about to receive the first batch of new state of the art MAN Truck & Bus UK Ltd recovery vehicles and trailers, capable of retrieving the heaviest vehicles on operations it was announced today, Friday 30 May 2008.
Powered by a 440Hp, 10.5litre, six cylinder turbo diesel engines, the recovery vehicles will be a powerful replacement for the existing Foden fleet. They are fully compliant with the latest emissions legislation (Euro 4) without the need for fuel additives, and can also operate, without preparation, on aviation fuel.
The trucks have a gross vehicle weight of 32 tonnes, with a crane that will lift 15 tonnes at a distance of 2.3 metres. All eight wheels are driven and 21st century technology introduces self-levelling suspension and automatic vehicle diagnostics.
Taylor, Minister for Defence Equipment and Support, said:
"This milestone represents a significant achievement and is further evidence of how hugely successful Support Vehicle Programme is delivering 7285 new military vehicles under our £1.3bn procurement programme."
The Support Vehicle (SV) programme will procure the future tri-Service cargo and recovery vehicles that will increase the military materiel lift/distribution and recovery capability.
Inspecting the vehicles at the MOD's Long Valley Training and Development Unit Baroness
The programme is procuring a fleet of vehicles consisting of 42 variants but effectively based around the light, medium and heavy cargo vehicles (6, 9 and 15 tonne respectively), the 7000 litre unit support tanker, the recovery vehicle and the recovery trailer.
DE&S General Support Vehicles team leader, Alison Henry, added:
"The vehicles are tremendously capable cross country, and can recover our heaviest wheeled casualties. In fact, the vehicle is capable of lifting 13 tonnes and can tow a 44 tonne vehicle. We work closely with the Armed Forces to deliver the equipment our forces need."
In all 288 recovery vehicles will be delivered with 69 recovery trailers to equip troops on operations in both Iraq and Afghanistan where required.
Baroness Taylor also inspected new cargo vehicles that have been fitted special armour to offer even greater protection for troops on operation. The vehicles were purchased as an Urgent Operational Requirement (UOR), a process which can deliver equipment that commanders want on the ground in a very quick timescale. UORs have delivered life-saving equipment to Iraq and Afghanistan, including Osprey body armour and Mastiff and Bulldog vehicles.
The complicated and highly capable recovery top hamper equipment which includes the cranes and winches is designed by ECA based in Gerrards Cross, then manufactured and bolted to the main chassis by Atlas Terex, based in Motherwell, Scotland. The vehicles are shipped across to Cambridge to Marshalls who manufacture the load bed.
Every vehicle will be received and inspected at the DE&S's distribution centre DSDA in Ashchurch, Gloucestershire. The programme is managed by the DE&S which works closely with industry to deliver equipment to the forces under the Defence Industrial Strategy.
UK DoD
02.06.2008

Share...




Rheinmetall MAN Survivor R special protected vehicle on show at GPEC 2020 international security exhibition in Frankfurt/Main
24.02.2020
Oshkosh FMTV A2 Makes Debut at Ausa 2018, Multiple JLTVS Command the Floor
14.10.2018
Eurosatory 2018: Patria 6X6 - Multifunctional transport capacity far into the future
12.06.2018
Global Clearance Solutions to support HI with mine clearance, development and social protection of vulnerable population in Northern Chad
19.04.2018
Drakensberg Truck Manufacturers - DTM
Volvo Truck Corporation Powertrain Division Engine
Volvo Truck en Bus Nederland B.V.
Volvo Truck & Bus (Thailand) Co Ltd
International Truck and Engine Corporation
International Truck and Engine Corporation
HAFEET Gun Truck (Fire support vehicle)
Discuss