Russia to sell six multi launch rocket systems to Turkmenistan
Category: Defence Industry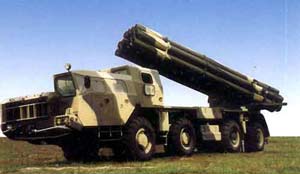 MOSCOW -- Turkmenistan has signed a $70 million contract with Russia to buy six Smertch multi launch rocket systems (MLRS).
Kommersant said that under the contract, the first major military-technical deal with Ashgabat in the past decade, the Smertch manufacturer, OAO Motovilikhinskiye Zavody, will deliver the first two systems before the end of this year and the other four next year.
The manufacturer said it would also complete deliveries of Smerch systems to India in July under a $300 million contract.
The plant previously supplied 30 Smertch systems to India, worth an estimated $450 million.
The 300mm Smertch rocket has an effective range of 70-90km. One rocket cluster contains 72 submunitions, each weighing 2 kg. Its impact angle is strictly vertical: 90 degrees.
A cone of such "meteorites" easily pierces the turrets and top shielding of armored personnel carriers, infantry fighting vehicles, self-propelled gun mounts, and even tank transmission compartments where the armor is not thick.
RIA Novosti
02.07.2008

Share...




Rosoboronexport at Eurosatory 2010
16.06.2010
Rosoboronexport At DSA 2010: Coming To Discuss All Aspects Of Military Technical Cooperation
27.04.2010
Russian Defense Industry At DEFEXPO INDIA-2008
14.02.2008
India To Purchase SMERTCH MLRS From Russia
26.01.2006
Motovilikha Plants Corporation
RS30 9K58 SMERCH (Multiple rocket launcher)
Discuss