CV90 Enters Service with Dutch Army
Category: Defence Industry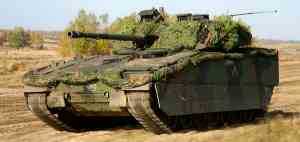 Dutch State Secretary Jack de Vries was visibly impressed by the brand-new CV90 during the test ride he was given at the Bernhard barracks in Amersfoort.
The event marked the official service introduction of the new infantry fighting vehicle in the Dutch Army.
After the successful completion of the trials phase, the Director of Defence Material Organisation (DMO), Lex Hendrichs, this morning handed over the first five vehicles to the deputy commander of the Land Forces, Major General Marcel van den Broek.
The CV90, together with the Fennek reconnaissance vehicle and the Boxer heavy wheeled armored vehicle, will ultimately replace all of the "good old" YPR armored transport vehicles, which must be retired after dozens of years of faithful service.
CV90 has much increased firepower, a top speed of 70 km/h, a radius of action of 600 kilometers and offers much improved protection for its occupants. The CV90 can carry 10 people, including three crew and seven fully-equipped infantrymen. (The CV90 is designated CV9035NL by the Netherlands).
The Ministry of Defence has chosen to procure a combination of modern vehicles to ensure that the Royal Netherlands Army is optimally equipped for the full spectrum of future missions, ranging from humanitarian aid missions to participation in a large-scale conflict. Thanks to its heavy weapons and armor, the CV90 can operate in the heaviest operational conditions.
The Netherlands have opted to arm their CV90s with the Bushmaster III, a 35mm rapid-fire gun which can disable targets at ranges of up to two kilometers. Furthermore, the vehicle has a 7.62 mm machine-gun and 10 launchers for smoke and shrapnel grenades. With minor modifications, the turret can be equipped with a 50 mm gun. The crew is protected against hostile fire by effective armor protection, and the vehicle is fitted with laser warning receivers.
The Ministry of Defence will procure 192 CV90s, including those intended for training. Earlier versions of CV90 are already in operation with the armed forces of Sweden, Norway, Finland, and Switzerland.
Dutch MoD
17.12.2008

Share...




BAE Systems` CV90 increases lethality by testing SPIKE LR anti-tank guided missile
14.01.2020
IVECO DEFENCE VEHICLES AWARDED CONTRACT TO DELIVER A NEW GENERATION OF MEDIUM MULTIROLE PROTECTED
24.09.2019
The Dutch armed forces select Rheinmetall to modernize their Bergepanzer 3 Büffel
17.05.2019
BAE Systems debuts iFighting® for combat vehicles at Eurosatory
12.06.2018
Dutch Defence Vehicle Systems - DDVS
CV90 (Repair and recovery vehicle)
CV90 Armadillo (Tracked armoured personnel carrier)
CV90 Mk IV (Infantry fighting vehicle)
Discuss