BAE Systems Delivers the 1000 CV90 Combat Vehicle
Category: Defence Industry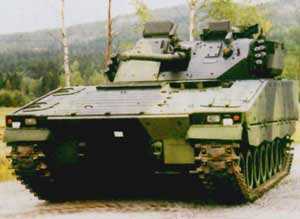 Ornskoldsvik, Sweden - BAE Systems has delivered the 1,000 CV90 Infantry Fighting Vehicle, marking a milestone for a vehicle that has been in production since 1991.
CV90, an agile, multi-role combat vehicle with all-target capabilities ranging from small targets to larger threats, has been continuously developed to meet the challenges of today's threat scenario.
The 1,000 vehicle was delivered to the Netherlands, which has a contract in place for 184 CV9035 MkIII. The CV90 is also in service with the armies in Sweden, Norway, Denmark, Switzerland and Finland and is and has been deployed with UN and NATO operations abroad.
"CV90 has been such a success globally due to its flexibility and upgrade potential for the past 17 years," said Tommy Gustafsson-Rask, marketing and sales director for BAE Systems. "Initial CV90 designs were focused towards providing high mobility and high firepower, but more recent designs have focused on high survivability in order to adapt to more recent threats. Our track record of successful offset programs, connected to the CV90, is a testament to our understanding of our customers and the needs of their countries industrial bases."
There have been a number of design upgrades over the years to improve flexibility of the vehicle and increase survivability and other capabilities, the most recent version being the MkIII. The large fleet of vehicles around the globe gives existing and new customers considerable advantages such as a broader base for cost-sharing of future upgrades and spare parts and international interoperability. Production of current CV90 contracts end in 2011 with future versions of the vehicle currently in development.
BAE Systems
13.01.2009

BAE Systems` CV90 increases lethality by testing SPIKE LR anti-tank guided missile
14.01.2020
U.S. Marine Corps orders more Amphibious Combat Vehicles
11.11.2019
RAVEN Countermeasure System protects vehicles from missile threats
15.10.2019
BAE Systems unveils Robotic Technology Demonstrator Vehicle at AUSA
15.10.2019
BAE Systems Land Systems Hagglunds AB
BAE SYSTEMS Advanced Technology Centre
BAE SYSTEMS Customer Solutions & Support Land & Sea
BAE SYSTEMS Operational Training
BAE SYSTEMS RO Defence Small Arms Ammunition Division
BAE Systems North America, Land & Information Systems
CV90 (Repair and recovery vehicle)
CV90 Armadillo (Tracked armoured personnel carrier)