BAE Systems Awarded $19 Million Contract Modification To Upgrade Caiman MRAP
Category: Contracts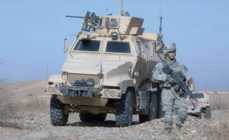 HOUSTON, Texas -- BAE Systems was awarded a contract modification worth $19 million from the U.S. Marine Corps Systems Command in Quantico, Virginia to upgrade 1,800 Caiman Mine Resistant Ambush Protected (MRAP) vehicles.
The upgrades will increase the functionality and dependability of several of the Caiman's systems and individual items. Work will take place at the Kuwait Refurbishment Facility and is anticipated to be completed by July 2010.
"These engineering upgrades to the Caiman MRAP provide our forces with the latest vehicle enhancements," said Chris Chambers, vice president and general manager of Global Tactical Systems in Sealy, Texas. "These enhancements improve our military's ability to safely and effectively accomplish their mission."
BAE Systems manufactured 2,868 Caiman MRAPs during the vehicle's 22-month production run, with the first vehicle delivered just 43 days after the initial contract award.
BAE Systems manufactures the Caiman in Sealy, Texas, where it employs more than 2,700 people. The Sealy facility has a long history with wheeled vehicle products and has established itself as a world-class designer, volume manufacturer and through-life supporter of high-quality, best value, military tactical wheeled vehicles with payload capacities from 2.5 to 18 tons.
About BAE Systems
BAE Systems is the premier global defense, security and aerospace company delivering a full range of products and services for air, land and naval forces, as well as advanced electronics, security, information technology solutions and customer support services. With approximately 105,000 employees worldwide, BAE Systems' sales exceeded £18.5 billion (US $34.4 billion) in 2008.
BAE Systems
11.06.2009

Share...




BAE Systems` CV90 increases lethality by testing SPIKE LR anti-tank guided missile
14.01.2020
U.S. Marine Corps orders more Amphibious Combat Vehicles
11.11.2019
RAVEN Countermeasure System protects vehicles from missile threats
15.10.2019
BAE Systems unveils Robotic Technology Demonstrator Vehicle at AUSA
15.10.2019
BAE Systems Land Systems Hagglunds AB
BAE SYSTEMS Advanced Technology Centre
BAE SYSTEMS Customer Solutions & Support Land & Sea
BAE SYSTEMS Operational Training
BAE SYSTEMS RO Defence Small Arms Ammunition Division
BAE Systems North America, Land & Information Systems
Caiman MRAP (Mine protected carrier)
Caiman Light (Mine protected carrier)
Caiman MTV (Mine protected carrier)
Discuss