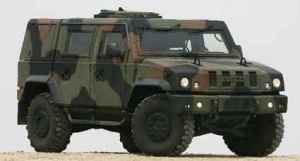 With sales to a succession of European nations and delivery of more than 1000 units against existing contracts, LMV is now well established as the light protected vehicle of choice for a wide variety of users.
The International Armoured Vehicles Event 2010 (1-5 February 2010) offers Iveco Defence Vehicles the opportunity to acquaint both existing customers and other visitors with more recent developments on this outstanding combat proven design. This builds on our stand at DSEI 2009, where three variants were shown to provide some idea of the different configurations which are available and to provoke feedback and comment. Besides the standard short wheel base 4 man cab Italian Army version, a two man chassis cab on a long wheel base was on display, demonstrating the versatility of he design and showing the ease with which it can be reconfigured to carry a shelter or a weapon system.
Of greatest interest, perhaps was the special forces version produced in collaboration with Ricardo. This three seater open top vehicle features a 12.7mm ring mount over the rear seat, besides a commanderís machine gun. Offering exceptional mobility which, owing to its origins as a protected vehicle, has not been compromised by the necessity of adding armour, the vehicle provides a level of mine blast and ballistic protection far superior to similar vehicles which are currently deployed. Although in this case the vehicle is an adaptation from a standard short wheelbase vehicle, prototypes are also being developed on the long wheelbase chassis, providing greater capacity and payload. A number of countries have already expressed interest in the SF variant and it is anticipated that deliveries will start in 2010.
At the International Armoured Vehicles Event 2010 it is intended to display the LMV for the first time in its latest guise as a protected utility vehicle, particularly well suited to the UKís OUVS requirement, and to other similar applications. In this configuration, the vehicle shows the longer, roomier cab and long wheelbase which have been developed to accommodate the userís increasing demands for additional payload and capacity. The vehicle has a loadbed capable of accepting two NATO pallets and can carry a full load without adversely affecting the formidable levels of mobility which have been so appreciated on operations. GVW has now been raised to 7.5 tonnes, allowing higher levels of protection and payload than are seen on Panther and the earlier versions of the vehicle. With a further improved electrical and power distribution system, the platform is also being used to demonstrate a number of innovations developed by our partner companies, including IBM and Selex' which indicate a potential way ahead to meet the requirement for improved situational awareness and a common systems architecture. The result is a mature, proven design which meets both the MoDís declared requirements and its systems architecture aspirations.
The International Armoured Vehicles Event 2010 provides an excellent opportunity for delegates to view the innovations which have been put in place on this vehicle, showing the flexibility of the design and its ability to adapt to meet a host of different requirements.