Thales Australia`s Hawkei Vehicle on display at Armoured Vehicles Australia
Category: Defence Industry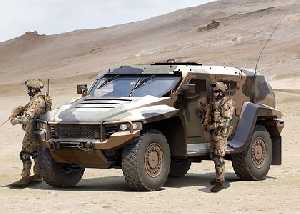 Thales Australia`s innovative Hawkei vehicle is starring at this week`s Armoured Vehicles Australia event in Canberra.
Hawkei is Thales's contender for the Department of Defence's LAND 121 Phase 4 program to replace Army Landrovers. The sleek 7-tonne 4x4 can carry up to six soldiers, and incorporates high levels of blast and ballistic protection.
An engineering mock-up of the Hawkei will be on display at Armoured Vehicles Australia (AVA), highlighting its internal seating layout and ground-breaking design.
The mock-up is a full scale representation of the vehicle which engineers use to experiment with different internal configurations and ergonomic (human factors) aspects, ensuring the end result is a vehicle designed to optimise operational effectiveness.
"The Hawkei is the best solution to meet the Australian Defence Force's light protected vehicle requirements," said Ian Irving, Vice President in charge of Thales's Land & Joint Systems activities in Australia.
"Together with Plasan, Boeing and PAC Group, we have formed an unrivalled team. And our exclusive relationship with Plasan for LAND 121-4's Australian option has been a real bonus. We're proud to be working with one of the most sought after composite armour and hull design specialists in the world.
"The response to the Hawkei's launch has been overwhelmingly positive and the work done by Thales, along with our partners, is seen as a very compelling offer."
Thales will also display its Single Cab and Dual Cab Utility Vehicles from the Bushmaster Family of Vehicles, which are designed to offer maximum logistics capability in the harshest environments while incorporating the same levels of protection as troop-carrying Bushmasters.
"Our Protected Mobility Vehicle range continues to grow, with new vehicles and new capabilities creating increasingly flexible options for armed forces," Mr Irving continued. "Our extensive experience with the Bushmaster program, combined with our systems integration expertise, gives the Department of Defence and the ADF a strategic local capability unrivalled in Australia and specifically tailored to Australian requirements." Armoured Vehicles Australia takes place 5-6 November at the Hyatt Hotel, Canberra.
Thales
05.11.2009

Share...




TEMPORARY COMPANY GROUPING EBMR MEETS ITS DELIVERY OBJECTIVES FOR 2019
14.01.2020
Rheinmetall Presents Next Gen "Wiesel Wingman" solution for Robotic Combat Vehicle – Light at AUSA 2019
04.11.2019
THALES AUSTRALIA AND GENERAL DYNAMICS ORDNANCE AND TACTICAL SYSTEMS DELIVERING FOR THE ADF
12.06.2019
FN Herstal Enhances Self-Protection Capabilities of deFNder RWS with ANTARES Situational Awareness System
11.06.2018
Boeing Integrated Defense Systems
Thales Raytheon Systems France
Thales Optronics (Taunton) Ltd
Thales Training & Simulation (USA)
Discuss