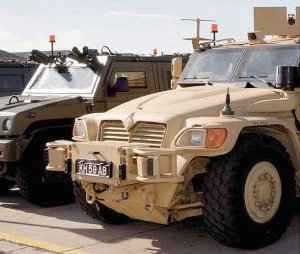 Often perceived as just a storage facility, the huge Army vehicle depot in Gloucestershire is actually where military vehicles, from tanks to quad bikes, are fully prepared for use in Afghanistan. Report by Richard Long.
With the operational tempo in Afghanistan quicker than ever, the need for fully-functional vehicles to support troops on the ground has never been greater.
Such a crucial role falls on the Defence Storage and Distribution Agency's Army vehicle depot in Ashchurch, a 272,000-square metre facility capable of holding everything from the mighty Challenger 2 battle tank to the comparatively lightweight quad bike trailer.
The vast site boasts row after row of hardware, with brand new Panthers, Jackals and Mastiffs among the huge inventory of wagons, trucks and support vehicles waiting to be deployed.
Such an array of resources could lead to the inevitable question as to why this fleet is stationed at a storage site in deepest Gloucestershire and not on the front line in Helmand province.
The answer is simple. In the commercial world a new car will roll off the production line, head to the showroom and find its way into the hands of a grateful owner, but for the Army the swift flow from factory to driver is not an option.
Lieutenant Colonel Robert Gascoigne, Royal Logistic Corps (RLC), who is responsible for Whole Fleet Management, explained:
"A lot of these vehicles are coming straight to us from industry and people often regard this place as a storage facility. It is a lot more than that.
"First of all we have to inspect the vehicles and conduct quality assessments - if anything is not right it goes back. If this equipment is going on operations it has to be fully working.
"We realise the soldiers want more than a vehicle. It has to be armoured, it has to be fitted with electronic countermeasures and Bowman radio, which needs to be tested and working.