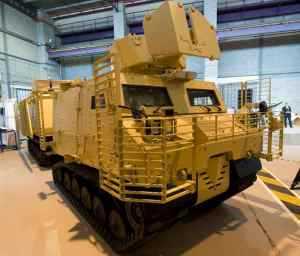 The first of 100 new Warthog vehicles, bought by the MOD to be used by British troops in Afghanistan's Green Zone, arrived in the UK yesterday to be prepared for operations.
Powered by a 7.2-litre engine that produces 350 brake horse power, the Warthog can wade through water while carrying up to 12 troops and offers improved levels of protection.
The highly agile, all-terrain vehicle will be able to climb steep gradients, cling to severe slopes, tackle vertical obstacles and cross wide trenches.
The MOD has bought more than 100 Warthog amphibious vehicles from Singapore Technologies Kinetics.
The first was unveiled yesterday, Thursday 19 November 2009, at Thales UK's new vehicle integration facility in West Wales as the company will be installing UK-specific kit to the vehicles.
This will include additional armour, specialist electronic countermeasures equipment and communication tools, before the vehicle is deployed to Afghanistan early next year.
Minister for Defence Equipment and Support, Quentin Davies, said:
"Warthog is an armoured beast of a vehicle that will carry troops to the heart of operations in the difficult terrain of Afghanistan's Green Zone. It can work in terrain where other vehicles find it difficult to operate.
"Warthog will provide improved protection to our troops on the front line and this marks a significant step forward in preparing this vehicle for our troops.
"I am delighted that Thales UK is able to contribute to that process here in the UK."
After the integration work the vehicles will undergo demanding trials to ensure Warthog is ready for the front line.