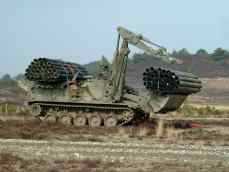 Newcastle, United Kingdom. –- The BAE Systems` programme to deliver 60 TERRIER™ vehicles to the British Army has taken two important steps forward.
Manufacture of the first TERRIER production hull began on 27 January at the company's Newcastle plant. In a ceremony attended by senior staff from both the MoD Combat Wheels Group and BAE Systems' suppliers; visitors saw machining operations on the first side plate commence.
Attendees at the production launch ceremony were able to see first hand the £2m investment in process and machinery which has been put in place to support Terrier production. Both have been completely overhauled to improve build efficiency and maximise build quality, following lessons learnt from production of the heavier Titan and Trojan engineer vehicles, and the mine-protected Panther command and liaison vehicle which was recently delivered to Afghanistan.
The first TERRIER hull will be used in mine blast trials to demonstrate improved protection levels introduced by modifications resulting from experience gained on other vehicles during operations in Iraq and Afghanistan. The complete hull will be available for trials towards the end of this year. Assembly, integration and test of the first production vehicle is scheduled to commence in the first half of 2011.
Another important TERRIER development milestone was successfully completed in December 2009 after two demonstrator vehicles finished a comprehensive performance trial designed to demonstrate reliability growth. This two-month assessment consisted of a range of typical battlefield missions, including:
Travelling 3300km, split between road, track and cross country going
Excavating 135 pits for Warrior infantry fighting vehicles
Digging 39 pits for AS 90 self-propelled howitzers
Moving 15,500 tonnes of spoil
Operating the vehicles remotely via a remote control system and radio link
Completing a range of route clearance and denial operations and placement of ditch-crossing fascines
BAE Systems TERRIER team leader Paul Dale explained, "Our goal with these trials is to provide the Ministry of Defence with confidence that TERRIER is on track to meet the exacting reliability levels prescribed for the vehicle."
Following a detailed review of the trial results and subsequent reliability case report, the MoD has concluded that the trial has been successful and the programme should continue to the next phase of reliability growth, which is to demonstrate compliance with the full contractual reliability requirement.
Group Captain Paul Ridge, the leader of the Manoeuvre Support Team responsible for the Terrier project, added "The successful completion of the mid-point reliability trials and the start of first production hull are significant milestone achievements for both BAE Systems and MoD. While there remain challenges ahead of us, both teams are committed to building on the momentum and recent successes to deliver world class capability and reliability for the Royal Engineers".
Paul Dale concluded: "The reliability targets set within the TERRIER contract represent a significant increase over the reliability requirements associated with Armoured Fighting Vehicles currently in service with the British Army. In successfully completing the performance trial, TERRIER has demonstrated a step improvement in reliability beyond that seen during the early phases of the programme."