Force Protection, Inc. to Debut Joint All-Terrain Modular Mobility Asset (JAMMA) Vehicle
Category: Exhibitions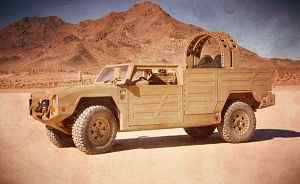 Ladson, S.C. -- Force Protection, Inc., a leading American designer, developer and manufacturer of survivability solutions, will debut the Joint All-Terrain Modular Mobility Asset (JAMMA) vehicle at the Association of the United States Army (AUSA) Institute of Land Warfare's Winter Symposium in Ft. Lauderdale, Fla., February 24-26, 2010 at booth #109.
JAMMA is the only armor-ready, four-occupant, hybrid, high-performance off-road vehicle that can be transported inside the V-22 Osprey helicopter. It is equipped to handle high speeds during extreme off-roading, on highways and through urban terrain. JAMMA is also capable of rapidly adapting to and being armored for specific mission profiles such as reconnaissance, rescue/recovery, med-evac and mobile security.
"We believe there is an ongoing need for our U.S. troops and allied forces to have access to lighter, highly mobile vehicles," said Michael Moody, Chairman and CEO of Force Protection, Inc. "The JAMMA vehicle has been designed from the ground up to be the new standard in light tactical vehicles and its light weight, high strength structure provides a wealth of multi-role mission configurations for its end-users. The JAMMA represents a different type of survivability solution focused on speed, mobility and concealment."
JAMMA satisfies the requirements of special operations user groups. It has optimized rollover protection and features an attachment system with threat-specific armor that can be easily attached or removed in virtually any environment. The vehicle includes stadium seating that protects the driver while allowing 360-degree return fire and features a state-of-the-art hybrid engine that optimizes vehicle efficiency and generates 22kw continuous exportable power.
Force Protection, in collaboration with Raydon Corp., a global leader in simulation products and solutions, will also showcase Raydon's Buffalo MPCV simulator. This training system instructs war fighters on how to visually detect IEDs and interrogate them using the Buffalo's unique interrogation arm/crane. This training system will help war fighters improve their route clearance skills, learn the latest tactics, techniques, and procedures for route clearance. The Buffalo crewmembers view the virtual battlefield through four 40-inch LCD monitors. With a 180 degree field of view (FOV) from an elevated seating position crews can detect IEDs and interrogate suspected IEDs with the hand held controls for the interrogation arm/crane. Crews are able to get an up close look at the suspected IED with a camera with zoom lens and maneuverable spotlights which enable crews to provide their night missions successfully.
"Force Protection has been instrumental in getting MRAP vehicles to our war fighter in Iraq and Afghanistan and there is no doubt they have been invaluable in the fight. We are very excited to be showcasing our Buffalo training system (MPCV) alongside Force Protection at Winter AUSA. Training our troops on route clearance best practices and preparing them to use MRAPs before they deploy is essential to mission success." said Mike Vollmar, CEO, Raydon Corporation.
Michael Moody continued, "Having Raydon's Buffalo simulator along with the JAMMA at AUSA Winter gives us the opportunity to showcase different types of survivability solutions to potential customers. We are pleased to have Raydon Corporation join in our AUSA Winter demonstrations."
The company's booth will also feature an interactive touch-screen video wall that provides detailed information regarding its full range of survivability solutions, including an overview of its Total Life Cycle Support services, as well as information regarding Force Protection, Inc.'s products and employees who are working to save heroes lives around the world.
For more information or to schedule an appointment with a Force Protection, Inc. representative, please visit booth #109.
Force Protection
25.02.2010

Share...




Rheinmetall MAN Survivor R special protected vehicle on show at GPEC 2020 international security exhibition in Frankfurt/Main
24.02.2020
Rheinmetall to Feature Next Generation 130mm Tank Gun at AUSA Global
04.11.2019
Rheinmetall Presents Next Gen "Wiesel Wingman" solution for Robotic Combat Vehicle – Light at AUSA 2019
04.11.2019
BAE Systems unveils Robotic Technology Demonstrator Vehicle at AUSA
15.10.2019
THE ASSOCIATION OF THE U.S. ARMY - AUSA
JAMMA (Maintenance and recovery vehicle)
Discuss