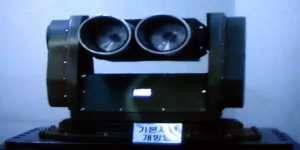 Agency for Defense Development (ADD) recently unveiled a plan to develop Active Protection System (APS) that will be installed on K-2 tank to protect the tank from enemy's anti-tank rockets and missiles.
The agency made public the image of the APS launcher along with 70-millimeter guided rocket during a defense science and technology exhibition, which was organized by the United States Pacific Command, in Hawaii on Mar. 15,
According to the Defense Acquisition Program Administration and ADD, the new system has been developing since 2006 with a budget of 40 billion won ($36 million) and it is scheduled to be complete within this year.
The APS is consisted of three-dimensional detection and track radar, heat detection and track system, control computer, launching system and counter rocket, the agency said.
The agency also said it only takes 0.2 to 0.3 second for the new system to detect and track anti-tank missiles and rockets fired from enemies and fire its counter rockets to hit those missiles.
The 70-millimeter guided rocket had also received attention. The rocket, a.k.a Low Cost Guided Imaging Rocket (LOGIR), has Image Infra-Red and guided control system. The new rocket, which has been jointly developed by Korea and U.S., is definitely not a new type of weapon as it has been created with low cost.
In a symposium two years ago, ADD said the new rocket could fly at the speed of Mach 2.0 with fire and forget method. The agency also said that the Army, Navy and Air Force already showed interest to get the rocket to install in their vehicles and planes.
In the meantime, the agency's president Park Chang-kyu said during the exhibition that the ADD will further develop eco-friendly green energy and low-carbon future energy weapon system as well as a system to be used in military training and combat experiment with simulation.