New International Contracts of Uralvagonzavod
Category: Defence Industry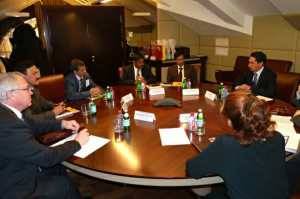 In the framework of the programme of visit of HVF Avadi plant executives' delegation to Russia negotiations on agreement and signing of contractual documents on component parts supplies in 2011-2012 in accordance with inquiries of the Indian side took place on the territory of FGUP "Rosoboronexport" on 23-24 March 2011.
On 25 March 2011 executives of OJSC "RPC "URALVAGONZAVOD" headed by Oleg Sienko, CEO, held a meeting with the Indian delegation. Issues concerning cooperation on T-90 project were discussed during the meeting.
The Indian delegation was headed by Mutnury Satyanarayana Rao, CEO of HVF Avadi.
Background Information
An interstate contract on transfer of thelicencefor manufacturing Ò-72Ì1 was signed in 1983. Over the 1984 to 1990 period major units (hulls and turrets, gear boxes) were mastered. Through 1986 to 1988 semi knock-down product supplies were carried out. Complete Knock Down supplies were complemented by training of customer's specialists.
The first unit of Ò-72Ì1 made of Indian and Soviet component parts was produced on 15 January 1988.
During the period from 1986 to 1990 the new tank producing plant of HVF was built upon the project of Leningrad Institute in Avadi, India next to the old plant which used to produce VIJAYANTA.
At the end of the 90s on the basis of cutting-edge construction and engineering technologies the new tankÒ-90Ñ was created. Characteristic features of the new tank included power pack with diesel 1000 h.p., improved undercarriage, fire control system with thermal imaging sight and unique combat properties.
Three units of this model of different configurations successfully passed the test under severe natural climatic conditions in India, which proved their superiority over comparable westernarmouredvehicles and earned recognition by foreign experts.
The thorough work reached its heights in 2001 when a major contract was concluded with the Indian Ministry of Defence.
During the period of October 2002 to September 2003 supplies of equipment and tooling necessary for Ò-90Ñ assembly as well as licence technical documentation were carried out. Under the circumstances technical assistance was provided to HIV Avadi plant as well as to other Indian facilities.
At present Russian experts provide assistance inlicencedsemi knock-down production of Ò-90Ñ and warranty period maintenance in the field.
Uralvagonzavod
03.04.2011

Share...




ARMATA MBT - problems 2020
24.12.2020
Problems of Russian land military vehicles with diesel engines
24.12.2020
Problems of Russian Vacuum APFSDS-T projectile
25.01.2019
BMPT Terminator will receive a remote blasting ammunition
07.06.2018
JSC Research and production corporation UralVagonZavod
ROSOBORONEXPORT, State Corporation
Confederation of Indian Industry
Discuss