Rheinmetall's innovative DM11 tank round: a new dimension in advanced multipurpose firepower for the Abrams MBT
Category: Exhibitions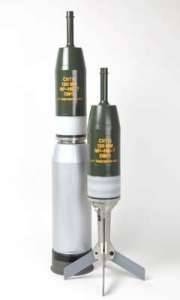 Combining unsurpassed survivability, compelling mobility and massive firepower, main battle tanks continue to form the backbone of strong modern armies. Designed primarily to take on and defeat enemy heavy armour, tank units today are more likely to find themselves operating in an asymmetric warfare context.
They still have to be ready to face enemy armour, of course, but main battle tanks now are far more likely to have to contend with lightly armoured tactical vehicles, enemy positions behind masonry and concrete walls or in bunkers, dismounted fighting forces, ATGM teams, helicopters, mines, and other material targets typical of military operations in urban terrain.
Rheinmetall's answer to all of these threats is the DM11, its latest 120mm HE tank round. Thanks to its three-mode fuse, super quick impact, time delay and airburst, the DM11 MPHE is designed to provide a single-round capability for addressing all threats, now and in the future.
The DM11 is thus a perfect match for the altered operational requirements of modern main battle tanks.
In 2007, the United States Marine Corps issued a Universal Urgent Need Statement for programmable 120mm multi purpose tank ammunition.
As a result of the competition, the USMC selected the DM11 in 2008, awarding Rheinmetall with an order for 10,000 rounds of DM11 ammunition in summer 2009. In the same year the DM11 passed the German Safety Certification as well as four United States Safety Boards (WSESRB).
To date, Rheinmetall has supplied the Marines with 1,390 DM11 cartridges for the M1 Abrams system tests and the introduction of a data link in compliance with the Joint Configuration Board-JCB and doctrine definition.
The USMC is already using the DM11 in theatre. In 2012 another 1,512 DM11 rounds will be delivered to the Marines. The German Government and the USMC are actually jointly conducting pilot lot testing of the DM11.
The German Army is set to field the DM11 in 2012. The armed forces of a number of other NATO nations intend to introduce the DM11 as well, as do several other countries.
The DM11 "as is" already meets more than 90% of the performance specification for an 120mm Advanced Multi Purpose (AMP) Ammunition, recently solicited by the US Army.
Rheinmetall
11.10.2011

Share...




Rheinmetall MAN Survivor R special protected vehicle on show at GPEC 2020 international security exhibition in Frankfurt/Main
24.02.2020
Rheinmetall books ˆ110 million-contract to extend the service life of the Marder infantry fighting vehicle for the Bundeswehr
21.01.2020
Rheinmetall to Feature Next Generation 130mm Tank Gun at AUSA Global
04.11.2019
Rheinmetall Presents Next Gen "Wiesel Wingman" solution for Robotic Combat Vehicle – Light at AUSA 2019
04.11.2019
Rheinmetall MAN Military Vehicles GmbH - RMMV
Rheinmetall Verseidag Ballistic Protection GmbH
Rheinmetall Soldier Electronics GmbH
Rheinmetall AG, Representative Office Abu Dhabi
Rheinmetall Waffe Munition GmbH
Rheinmetall Defence Electronics GmbH
Rheinmetall Waffe Munition Arges GmbH
American Rheinmetall Munitions, Inc. - ARM
Rheinmetall Denel Munition (Pty) Ltd - RDM
M1A2 Abrams (Main battle tank)
M1A1 Abrams (Main battle tank)
M1A1 Abrams (Main battle tank)
M1A2 Abrams (Modernization of the vehicle)
M1A2 SEP Abrams (Modernization of the vehicle)
M1A1 AIM Abrams (Modernization of the vehicle)
M1A1 Abrams (Armoured vehicle-launched bridge)
M1A2 TUSK Abrams (Modernization of the vehicle)
M1A1-SA Abrams (Modernization of the vehicle)
M1 Abrams Panther II (Mine clearing vehicle)
Discuss