Elbit Systems to Supply Mortars to the Spanish Army
Category: Defence Industry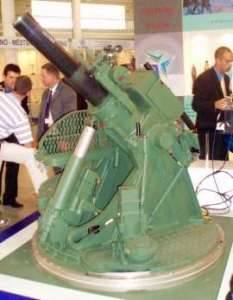 Haifa, Israel -- Elbit Systems Ltd. (Elbit Systems) announced today that it has won contract to supply mortars to the Spanish Army. The project, valued at $8.5 million, will be implemented over a 12-month period.
The Spanish Army's decision to equip its forces with mortars provided by Elbit Systems was made after a series of successful tests in both Spain and in Israel.
Elbit Systems will be the lead contractor for the project, which will include the installation of CARDOM autonomous recoil 81mm mortars mounted on the back of VAMTAC 4x4 vehicles produced in Spain by UROVESA. The Spanish companies GMV and Spain's General Dynamics Santa Barbara, will also participate in the project.
Bezhalel (Butzi) Machlis, Elbit Systems Land and C4I General Manager, noted: "We are very proud of the Spanish Army's decision to acquire our mortars, following advanced armies like the Israel Defense Forces, the U.S. Army and others." Machlis added:"The selection attests to Elbit Systems' leadership in the field of advanced mortars and we hope, in light of Spain's important role in Europe and within NATO, that other armies will also acquire mortars produced by Elbit Systems."
About Elbit Systems
Elbit Systems Ltd. is an international defense electronics company engaged in a wide range of programs throughout the world. The Company, which includes Elbit Systems and its subsidiaries, operates in the areas of aerospace, land and naval systems, command, control, communications, computers, intelligence surveillance and reconnaissance ("C4ISR"), unmanned aircraft systems ("UAS"), advanced electro-optics, electro-optic space systems, EW suites, airborne warning systems, ELINT systems, data links and military communications systems and radios. The Company also focuses on the upgrading of existing military platforms, developing new technologies for defense, homeland security and commercial aviation applications and providing a range of support services.
Elbit Systems
31.10.2011

Share...




DALO Contracts Systematic To Enhance Artillery System Combat Effectiveness
17.07.2018
Elbit Systems of Australia Concludes Successful Delivery of Thermal Weapon Sights to ADF
14.05.2018
Australian Minister for Defence Industry Publicly Announced Elbit Systems' Award of Additional BMS for the ADF
28.11.2017
Elbit Systems Presents SPEAR MK2 – Latest Version of the Fully Autonomous Mortar System for Lightweight Combat Vehicles
16.05.2017
Uro Vehiculos Especiales SA (UROVESA)
Uro VAMTAC Hybrid (Tactical vehicle)
Discuss