Force Protection Receives $185.9 Million Award for 167 Buffalo Vehicles and 102 Bar Armor Kits
Category: Contracts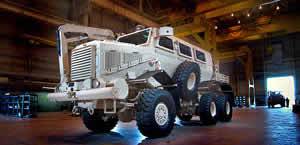 Force Protection Industries, Inc., a FORCE PROTECTION, INC. group company, today announced it has received a firm fixed price modification to existing contract W56HZV-08-C-0028 from U.S. Army Contracting Command in Warren, Michigan, with an approximate value of $185.9 million for the purchase of an additional 167 Buffalo A2 Mine Protected Clearance Vehicles and 102 Buffalo A2 Bar Armor Kits.
Work is to be performed in Ladson, South Carolina, with deliveries extending to April 2014.
Michael Moody, Chairman and Chief Executive Officer for Force Protection said, "Today's announced modification provides Force Protection important revenue visibility into 2014. In addition, by securing Full Material Release and authorization to proceed to Full Rate Production, the Buffalo has achieved additional significant milestones on the path to achieving formal Program of Record status within the U.S. Army's installed fleet of vehicles."
Mr. Moody concluded, "We remain extremely proud of the service record of the Buffalo and the countless Soldiers' lives saved performing critical route clearance missions. We will continue to work closely with the U.S. Army and other domestic services, as well as militaries worldwide, to ensure troops have the necessary resources to promote their success on the battlefield."
Force Protection
02.11.2011

Share...




Rheinmetall MAN Survivor R special protected vehicle on show at GPEC 2020 international security exhibition in Frankfurt/Main
24.02.2020
The Dutch armed forces select Rheinmetall to modernize their Bergepanzer 3 Büffel
17.05.2019
BAE Systems awarded Armored Multi-Purpose Vehicle contract modifications by U.S. Army for Low-Rate Initial Production
24.02.2019
Rheinmetall Mission Master Dominates European Ground Robotic Systems Competition at ELROB 2018
04.11.2018
Buffalo H (Mine clearing vehicle)
Buffalo (Wheeled armoured personnel carrier)
Turkar Buffalo (Mine protected carrier)
Discuss